So you are a TikTok creator and build trust among followers. But you don't have fresh content ideas sometimes. So here is an easy way to repost a video from other popular creators. But you don't know how to repost on Tiktok? We have got you covered here.
TikTok is a popular short video-sharing App. In TikTok, you can flaunt your talent, like dancing, lip-sync, singing, comedy, or any other creative work. TikTok engages above 600 Million daily active users daily and a billion monthly active users. For Gen-Z, it has become a single place for getting entertained to seeking financial advice.
For creative people, TikTok is heaven. They can use filters, voiceovers, music & effects to make eye-catchy content. So many artists like Bella Poarch & Doja Cat have made a career out of TikTok—all thanks to its easy-to-use video creation tools & enormous users.
You have a chance if you are also looking to find fame on TikTok. Try using the new Repost feature. In this article, we will tell you everything from What is the Repost feature to How you can Repost on TikTok & more. So, Let's dive and find out.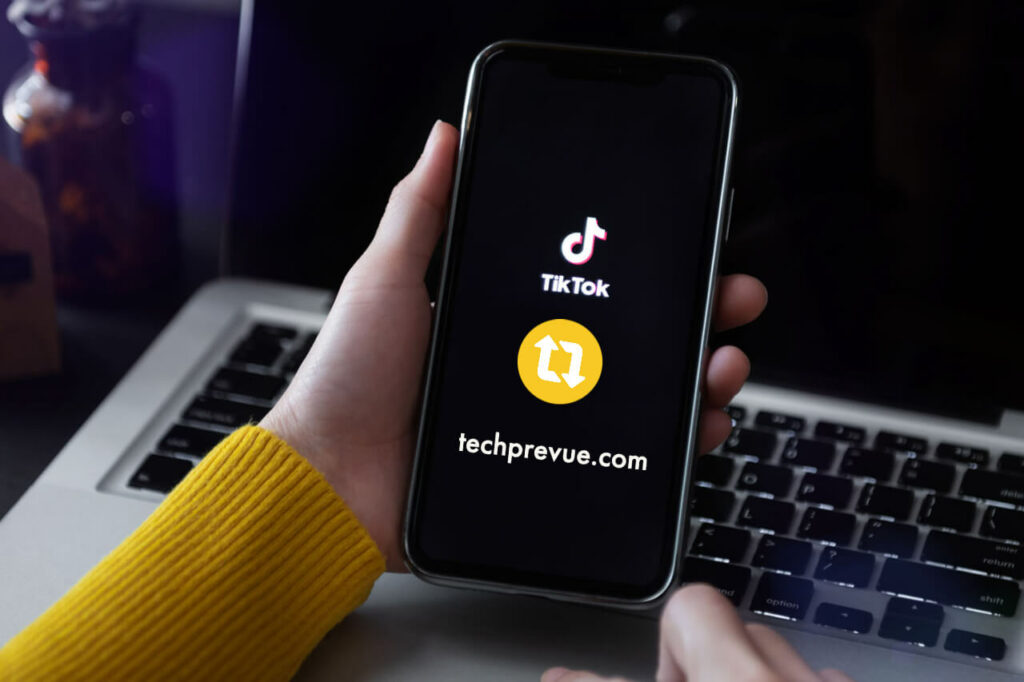 What is the Repost button on TikTok?
Before we look at the repost button, let's look at What is Reposting on TikTok. As the name itself suggests, reposting is re-sharing an existing TikTok post. It is similar to the retweet feature of Twitter.
Earlier users have to download a video to repost it on their TikTok, sometimes leading to copyright issues. Now, thanks to the repost feature, users can easily repost any video without worrying about copyright infringement.
The Repost button is a yellow color icon with two arrows. It shows on the left-hand side of any TikTok post. The button also appears when you click on the share icon. So what happens when you tap this button? Once you tap it on any post, it will be shared with your mutual friends on their "For You" feed.
How to Repost on TikTok?
As we know, TikTok users may allow you to repost videos. Following are the steps to undo a repost on TikTok:
Open TikTok App and visit your profile.
Open the "For You" feed by tapping on the Home icon.
Find a TikTok video you want to repost.
Next, Tap on the share button.
On the popup that appears, you get the Repost option.
Tap on the yellow-colored "Repost" icon with two arrows.
Note: Sometimes, you may see the "Recommend" button instead of "Repost." Don't worry! Both buttons have the same feature.
You can also use the "Add your thoughts…" box to add a comment if you want. Your comments will appear on the reposted video, just above your profile pic. Please credit the original creator since it avoids any copyright issues.
You should also note that the Reposting feature on TikTok is in beta testing mode. Thus, this new feature may be available only to a few selected users.
How to Undo Repost on TikTok?
Did you repost a video on TikTok by mistake & now you want to undo it? No worries! You are just a few taps away from deleting the Repost. You can follow these steps depending on when you want to un-repost.
How to undo Repost immediately
Go back to the TikTok repost.
Tap on the share arrow button.
Next, from the row of icons, tap on the "Remove Repost" option to cancel the Repost.
How to undo a repost later 
Go to TikTok App on your phone.
Login into your TikTok account & open your profile.
Next, open the video that you reposted. (If you don't know how to find it, we have mentioned it next.)
Tap on the share icon in the lower right corner.
In the popup menu, tap the "Remove Repost" option to delete the Repost.
How to See Reposts on TikTok?
TikTok doesn't have a feature that allows you to look at your reposted videos. However, there are a few tricks that may help you to find TikTok reposts.
Visit Saved Videos on Your TikTok Profile
You must note that this method will only work if you repost and save a video. Use these steps to find it.
Open TikTok on your phone and go to your account.
Tap on the profile icon at the bottom right corner.
Next, find the save button from the icons below your profile pic.
Find your TikTok repost from there.
Visit the Profile of the Original Creator
Follow these steps if you remember the user's profile whose original post it was, as well as the reposted TikTok.
Open your account in the TikTok App.
Tap on the home button in the lower left corner.
Next, tap on the search icon at the top right.
Type and search the username of the person who posted the video originally.
Find and open the profile of that user.
From the videos in their profile, you can find the video.
Check Your Watch History
Open TikTok and tap on your profile.
Tap on the three small lines(☰) at the top right.
Next, go to "Settings and Privacy."
Scroll down the list that appears & tap on "Watch history."
You will see all the videos you watched in the recent past (7 days).
There you will be able to find the video you want. However, if you forgot the video, you must visit and check each video individually. This process can be tiresome. Thus, we suggest you use it as a last resort only.
Remember When You Repost A TikTok Video
When you repost someone's TikTok, please remember the following.
Reposting doesn't bring any engagement to your profile.
You can't get likes when you repost content on TikTok. All the likes on the reposted video will appear in the original video.
You can't repost a video to get comments. However, they will appear in the original video.
Similarly, the original content creator will get followers, not you.
You can only bookmark the video to remove the Repost shortly.
Endnote
TikTok is a popular social media app. TikTok Repost feature makes it even better by giving an easy way to share posts. If you also want to grow your Tiktok followers using Repost, this article will be very helpful to you. Here we have covered everything you need to know about reposting a video on TikTok and also how to remove it. I hope you found value in this blog. If you still have some doubts or suggestions, you can comment below.
FAQs
What does Repost mean on TikTok?
It means you get the repost button to share content with your followers and friends "For You" page (FYP). You don't get any repost tab on your TikTok profile to see them.
Why can't I repost on TikTok?
You cannot repost TikTok's video because the feature is in the beta phase, so not everyone has the option. Other possible issues are reposting disabled, account restrictions, private accounts, bugs, and copyright infringements.
What does Repost do on TikTok?
Reposting allows you to repost content on TikTok from other creators.
Can I See Who Shared My TikTok?
Someone can repost TikTok videos from your account, but you can't see their names. Only you see the insights of your videos.
How can I see my Repost on TikTok?
When you're sharing someone else's content, remember to bookmark it. This is the only way to see your Repost.
How do I un-repost on TikTok?
You get the "remove repost" option after reposting a video. Then, only press the share icon once more.
How long do reposts on TikTok last?
It depends on the TikTok user's posting settings and other preferences. Mostly, TikTok videos and reposts remain on the platform until the original content creator deletes them.