There are numerous options available for virtual teamwork, but one that stands out is Google Workspace. This suite enables teams to collaborate effectively, even when working from different locations or using different devices.
However, like any other business collaboration tool, proper training is essential to leverage the capabilities of Google Workspace fully.
Google Workspace is designed for virtual collaboration and is particularly useful in telecommuting or mixed office settings.
When using Google Docs and Hangouts, you can create an environment similar to face-to-face meetings, but there are a few prerequisites:
Utilizing video technology for important discussions and conferences.
Real-time communication with colleagues, both for business purposes and casual interactions.
Planning software to ensure remote workers are on the same page.
Screen sharing to convey ideas to remote recipients effectively.
Despite these helpful features, it can still be challenging to completely replace in-person meetings for document reviews, team collaboration, and obtain immediate feedback. In addition, questions may arise regarding simultaneous project collaboration, data security within Google accounts, and replicating the energy and excitement of face-to-face gatherings.
When a team works together physically, a unique energy and atmosphere emerge, which can be challenging to replicate in a hybrid or remote setting. Therefore, it's important to seek out online collaboration tools that can help bridge these gaps.
Google Workspace enterprise that a Google Workspace partner can provide offers a comprehensive solution that addresses these needs and maximizes the benefits of virtual collaboration.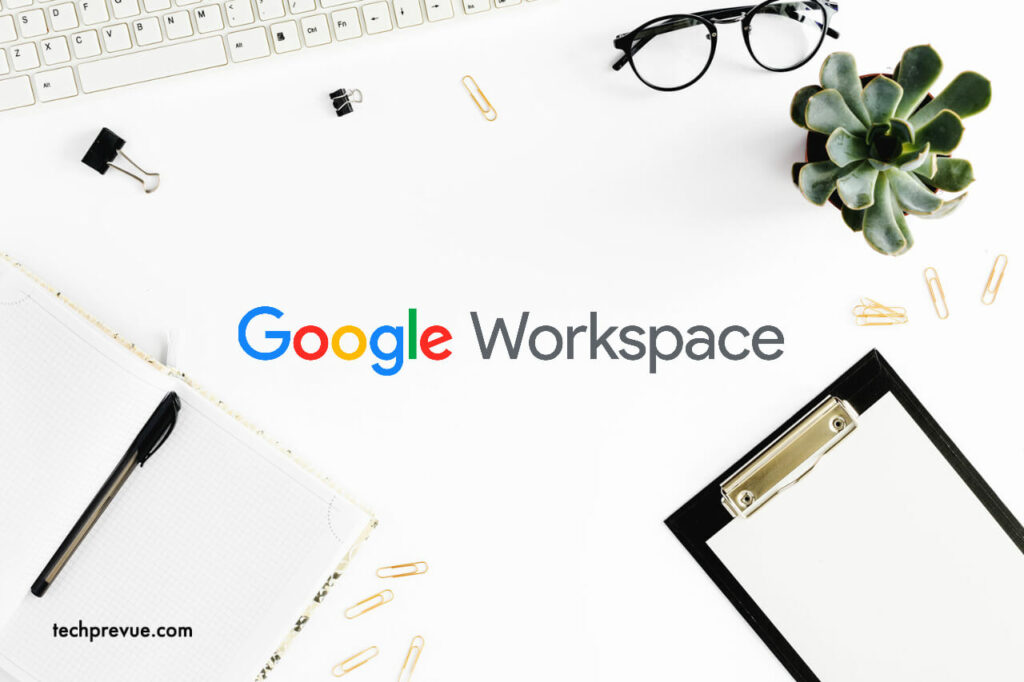 Google Workspace Collaboration Tools
Google Workspace stands out as an exceptional enterprise-grade collaboration tool. Its comprehensive online productivity suite offers a wide range of features, including:
Business email accounts (Gmail)
Shared calendars
Real-time chat
Video conferencing (Google Meet)
Word processing software (Google Docs, enabling simultaneous collaboration for up to 10 people)
Spreadsheet software (Google Sheets)
Presentation software (Google Slides)
Cloud storage (Google Drive)
Survey administration software (Google Forms)
The extensive selection of products and additional features is impressive on its own, but what truly distinguishes Google Workspace is the seamless integration and synergy between them.
To illustrate the collaborative capabilities of Google Workspace, consider the following examples:
Collaborate with a coworker in real-time within a document while engaging in a chat conversation, and invite others to join the discussion with a single click.
Join video conferences on the go using Google's mobile video conferencing feature, enabling global participation in online meetings with simultaneous collaboration.
Administrators can access data to gain insights into how their staff adapts to the new productivity tools.
These examples highlight just a few of the exceptional standard features of Google's collaboration tool suite. Acquiring proficiency in Google Workspace will greatly enhance remote teamwork capabilities.
10 Google Workspace Tips to Improve Productivity
We have compiled a set of best practices for Google Workspace to enhance teamwork and maximize the benefits of the suite for your business:
Schedule training sessions to familiarize your team with Google Workspace and virtual collaboration tools. While the interface is user-friendly, allowing time for learning and providing necessary resources will ensure successful adoption.
Choose "champions" within your team who will become experts in specific productivity apps of Google Workspace. Involving your staff in onboarding increases engagement and utilization of available resources.
Use Google Calendar to create a group schedule, facilitating coordination and tracking activities, including training sessions and team outings. Regardless of geographical dispersion, you can easily keep track of everyone's availability and commitments.
Set up dedicated meeting spaces where your team can collaborate, communicate, and share files efficiently. Google is introducing Google Spaces, an enhanced collaboration platform that provides features such as in-line topic threading, assigned tasks, expressive reactions, and more. Begin training your team on this functionality to be prepared when it becomes available.
Organize company files using shared folders, granting access to specific groups while maintaining privacy. This simplifies file distribution and ensures the right people have the appropriate access.
Use Google Meet to host online video conferences and share documents, spreadsheets, or desktop screens. Record and caption these meetings for easy access, which is especially useful for teams working across different time zones.
Learn time-saving tricks within Google's collaboration tools. For example, in Google Docs, you can perform web searches without leaving the document by selecting "Tools" from the main menu and then "Explore." These shortcuts enhance efficiency in the workplace.
Build a website for your team using Google Sites; no coding experience is required. Websites help align and inform large teams about the bigger picture.
Explore add-ons to extend Google Workspace's functionality. Add-ons can easily be integrated with Google services like Docs, Sheets, and Slides. Access the "Add-Ons" tab to discover and install new extensions.
Gather opinions and feedback using Google Forms, conducting anonymous surveys within the company to gauge team morale and assess the emotional state of your virtual or hybrid team.
By implementing these best practices, you can leverage the full potential of Google Workspace, promoting collaboration, productivity, and effective teamwork within your organization.
10 Google Workspace Tips for Remote Work
Here are some ways to enhance teamwork and maximize the benefits of Google Workspace:
Streamline communication with a team mailing list: Create a Groups email list to facilitate more accessible communication among worldwide team members. You can send updates and share resources like team calendars and Drive documents with everyone using the group's email address.
Stay organized with team calendars: Overcome scheduling challenges by superimposing coworkers' schedules on team calendars. This lets you quickly find available meeting time slots and ensures efficient coordination across multiple time zones.
Empower team members with project or team spaces: Use dedicated areas in Chat or Chat in Gmail to foster communication and collaboration among remote team members. It enables them to connect, work on projects, discuss best practices, and build a cohesive group dynamic.
Store, share, and access team resources from anywhere: Centralize your team's files on Drive or a shared drive to securely store, share, and archive resources. Drive highlights modified files, ensuring team members can access the most up-to-date versions from any device.
Coordinate project plans and schedules: Create dynamic project plans in Sheets to organize team efforts and track progress. With real-time updates, all team members can stay informed, delegate tasks, and adjust schedules efficiently.
Hold video meetings and remote events: Utilize Meet for video conferencing and remote communication with geographically dispersed team members. Meet and Gmail support video meetings, enabling virtual gatherings and maintaining personal interaction without physical travel.
Edit team documents in real-time: Collaborate seamlessly on documents, spreadsheets, and presentations using Docs, Sheets, and Slides. Real-time collaboration, inline chat, and comments make sharing edits and discussing specific sections quickly, ensuring everyone works on the latest versions.
Give presentations to remote audiences: Use Meet to conduct video meetings and share files, including presentations, when physical presence is impossible. Record meetings for attendees in different time zones and provide closed captioning for inclusive participation.
Broadcast the latest information to large groups or teams: Create a website in Sites to share data with broad audiences. Embed Google Docs, Sheets, and Slides to provide up-to-date content within your organization or to the public, ensuring easy access and information dissemination.
Collect information from team members or customers: Use Google Forms to create surveys, polls, and feedback forms for data collection. Gather responses, analyze results, and visualize data using Forms and Sheets, making it easy to gather insights from your team or customers.
By implementing these practices, you can enhance collaboration, improve communication, and optimize teamwork within your organization using Google Workspace.