If you are wondering, "How good is the Google Pixelbook 12in?" or "Is the Google PixelBook 12in worth buying?', then you are at the right place. Here we will review this Chromebook, which has a sleek design, touchscreen display, and Intel Core i5 processor. The 8GB RAM & 128 GB SSD makes it lightning-fast while loading apps and pages. If you are a teacher, student, or professional, then this can be the best buy for you. This compact & lightweight laptop with a Pixelbook pen can make your work more pleasing.
The question balls down to if the Google Pixelbook 12in is worth buying in 2023 when competitors like the Microsoft Surface Pro are in the market. This article will help you figure this out. Further, we have given a true and honest Google Pixelbook 12in review for you.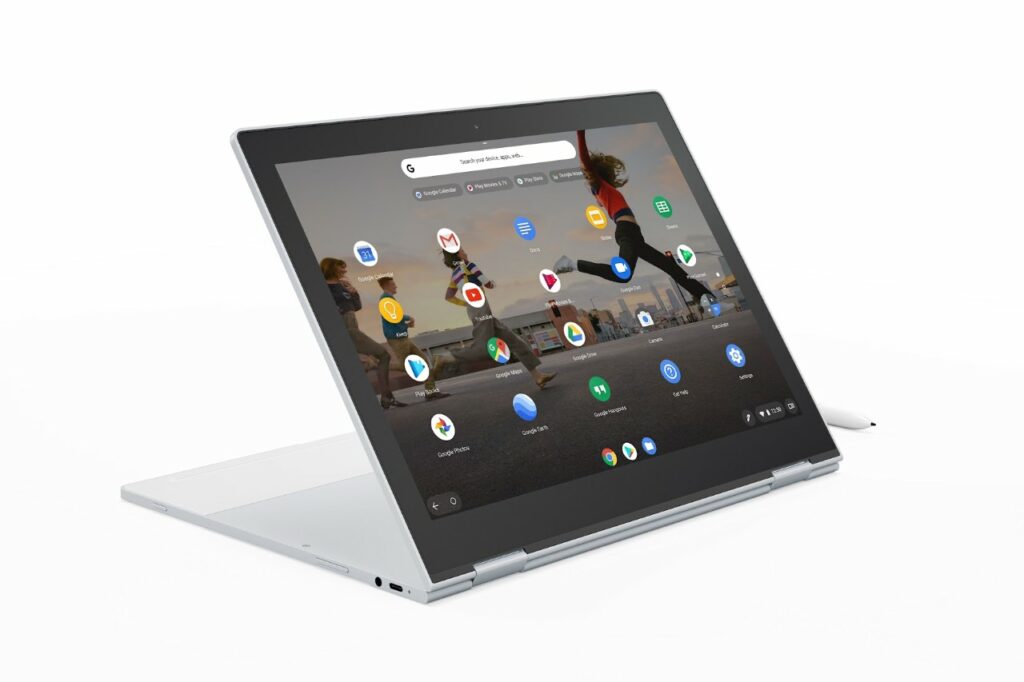 Google PixelBook 12in Overview
This stylish Pixelbook 12in has an aesthetic design. The look & feel is very pleasing. To add to that, it has a powerful Intel Core i5 processor & 8GB RAM onboard. It comes with ChromeOS, with all your Android apps in it.
However, the design and hardware are not the only striking features of the laptop. The specs like the built-in Google Assistant key, Bluetooth & fast charging also make it unique. Moreover, ChromeOS sets it aside from other Windows and Mac-based laptops.
What else makes the Google Pixelbook 12in fascinating is its 4-in-1 laptop features. You can use it like a normal laptop. Else if you bend its screen 360 degrees, it acts like a functional tablet with volume & power buttons. But the question is, 'Is it worth the $999 price tag", we will figure it out here. So let's dive deep and find out.
Specifications
The Google Pixelbook 12in features stand a high ground in its laptop series. So let us have a quick overview:
| | |
| --- | --- |
| Brand | Google |
| Series & Model | Pixelbook 12-inch |
| RAM | Upto 16GB |
| Processor | Intel Core i5 or Core i7 Processor, 7th Gen. 3.6GHz |
| Graphic Card | Integrated Intel HD 615 |
| Internal Storage | 512GB SSD NVMe SSD |
| Battery life | Upto 10 hours |
| Operating System | ChromeOS |
| Screen Resolution | 2400×1600 (235 PPI) |
| Display | Quad HD LCD display, touchscreen, 360-degree bending |
| Connectivity | Bluetooth 4.2, WiFi 802.11 a/b/g/n/ac– dual-band (2.4 GHz, 5.0 GHz), three 2×2 (MIMO) |
| Input | Backlit keyboard with touchpad |
| Webcam | 720p HD camera (30 fps) |
| Accessory | Pixelbook Pen |
These power-packed features make Google Pixelbook 12in smooth & efficient to use. Now let us look at its other features.
Performance
The Google Pixelbook 12in is "made for performance" with its high-end specs. The Intel Core i5/i7 processor, combined with the 8 GB/16 GB RAM and SSD storage, makes its browsing lighting fast. The Android apps downloaded from PlayStore also run swiftly. You can use it for gaming, video editing, or entertainment. The Google Pixelbook pen accessory complements its performance.
On top of that, you can set up an alarm in it to wake you up. Its speakers do a fine job in that case, besides playing videos & songs. Although Google claims "Up to 10 hours of battery life", user experience says it lasts 7-10 hours on a single charge.
The Pixelbook's basic variant(8GB RAM & 128GB SSD) comes at a price of $999. However, you can buy a laptop with upgraded storage and processors if you like. To be honest, the laptops' pricing may not be justified to people like students, as you may find similar features at lower prices.
Still, the Google Pixelbook 12in with Google Play Store & its apps, makes it an appealing device. Another unique feature is that it allows you to unlock the device with your phone's touch sensor.
Hardware
The Google Pixelbook 12in comes with a 4-in-1 design. You can use it as a laptop, tablet, or in tent mode. Besides the looks, the hardware specifications of this laptop are equally appealing. It may look like a small laptop, but it has got the power.
When you get a laptop from Google, it offers the Pixelbook 12in with a range of processor, storage, and memory upgrades. Starting from the base variant, all of them are equally satisfying in performance.
With its high-end hardware, multitasking becomes easier without any slowdown, even after hours. You can run various apps and switch between them in a hassle-free manner. You can open dozens of tabs simultaneously. The split window feature makes work more productive. You can put the system to sleep once you are done with your work using the Power button at the side.
Software
The Pixelbook runs on ChromeOS, which is sufficient for your daily tasks. Google's Chromebooks generally come with loads of inbuilt apps. These include apps like Google Docs, Google Sheets, Gmail, Youtube, Google Slides, etc. You can also visit the PlayStore to download different apps and games.
Google is surely pushing its 'Assistant' feature. In a similar move, it has added an additional button on the bottom left which can be used to activate 'Google Assistant.' This feature is very interesting to use. The Chromebook also allows you to search for any picture on the webpage just by circling it.
Display
The glossy touchscreen comes with a resolution of 2400 x 1600. It has a 12.3-inch panel and a 3:2 aspect ratio. The screen has a 4K display which makes it ideal for entertainment purposes. The colors are clear and vibrant but lack good pixel density.
The sleek and stylish design makes the laptop more attractive. And the black screen with a white aluminum body adds to its beauty. However, the screen has bezels on the edges, which are wider than needed.
The Pixelbook 12in comes with Corning Gorilla Glass which makes it scratch resistant. The pen accessory runs smoothly on it but hinges on the screen sometimes. As the touchscreen mode and wide display also consume more energy, so let us look at how is the laptop's battery.
Battery
Battery backup can be a make or break point while judging a laptop's performance. Although Google claims "up to 10 hours battery life," it usually lasts 8 hours on average. Battery drain also depends on features we use, like video streaming, gaming, or writing.
The battery's overall performance is not up to the mark. However, only 15 minutes of charging can run the laptop for 2 hours. This makes up for the relatively shorter battery backup. In later versions of the Pixelbook series, the battery backup is much better.
Connectivity
The laptop features two USB-C ports located on either side. It also offers a microSD card slot and audio input of 3.5 mm.
For further connectivity, you may need a USB-C hub to fulfill the purpose. The device also has Bluetooth 4.2 and 802.11ac Dual-Band Wi-Fi.
Other Google Pixelbook Features
Pixelbook Pen
This accessory can be purchased separately. It adds to the 4-in-1 feature of the laptop. The wireless pen makes writing, editing & drawing smooth. There is a small button on the side. It can be used to activate the pen or the 'Google Assistant.'
The downside of the pen is that it can't be magnetically hooked and charged like Apple Pencil on iPads. It needs an AAAA battery for power. Moreover, the pen may roll down & can be lost due to this.
Keyboard and touchpad
The Pixelbook comes with a backlit keyboard, which helps while working in a dark environment. You can also operate it using the touch screen. The keyboard design is compact, with shortcut options like that of Google Assistant. The touchpad is glass-topped and wide, which allows you to move the cursor swiftly.
Pros and Cons
When buying a laptop, the most important thing that users need to look at is their Pros & Cons. Below we have listed them in points for you to read:
Pros
Sleek, Compact, and Lightweight design.
Upto 10-hour battery life.
Hardware configuration like touchscreen & dual USB-C port.
Allows seamless multitasking and switching between apps.
High-end performance
Cons
High Price.
Wider bezels on the screen.
Few ports.
Low-quality webcam.
The screen hinges with the Stylus Pen.
Endnote
Overall the elegant design of the Google Pixelbook 12in is aesthetic. In the lightweight segment, the laptop is really worth considering. It is easy to carry & runs on Chrome OS, thus can be a good choice for students. We have reviewed its features and found that it works well both in laptop & tablet mode. There are cons like battery backup, wider bezels, and pricing.
Google has discontinued Pixelbook 12in. However, many resellers still offer refurbished versions. Google launched its upgraded version in 2019, the "Pixelbook Go," with better features.
I hope you found value in our review of Pixelbook 12in. If you have some suggestions or queries, feel free to comment below.