The days of hiring professional designers may be coming to an end since we have had many open sources and freeware graphic design software for installation on our computers. But now, with web applications becoming more popular, even the need for installation is becoming obsolete. Web-based tools make apps more flexible for use wherever you are at home or the office. The only shortcoming is that you need a reliable and functional internet connection throughout the work session.
We have more options than ever between installed freeware and online web applications, and it will be increasingly tricky for proprietary closed-source applications to remain relevant. In addition to the cost factor, they also need to consider the growing awareness of the security risks associated with closed-source applications. Although you trust a company to do the right thing, you're still putting all your faith in its individual employees, who may not necessarily have the same agenda as the company they work for.
Unfortunately, many online tools are based on Flash, which is as bad as, and possibly worse than, installing a closed-source application on your computer. Therefore, you should use a little common sense if you do something online that uses Flash (including Facebook). Sandboxing is always a great idea, and there are dedicated operating systems like Qubes OS that make it really easier to protect unreliable things.
This article lists some great free online graphic design software tools. Some of these tools can only do one thing, but they can save time and effort and allow you to work almost anywhere.
Online Graphic Editors for Your Design Needs
1. VistaCreate (Crello)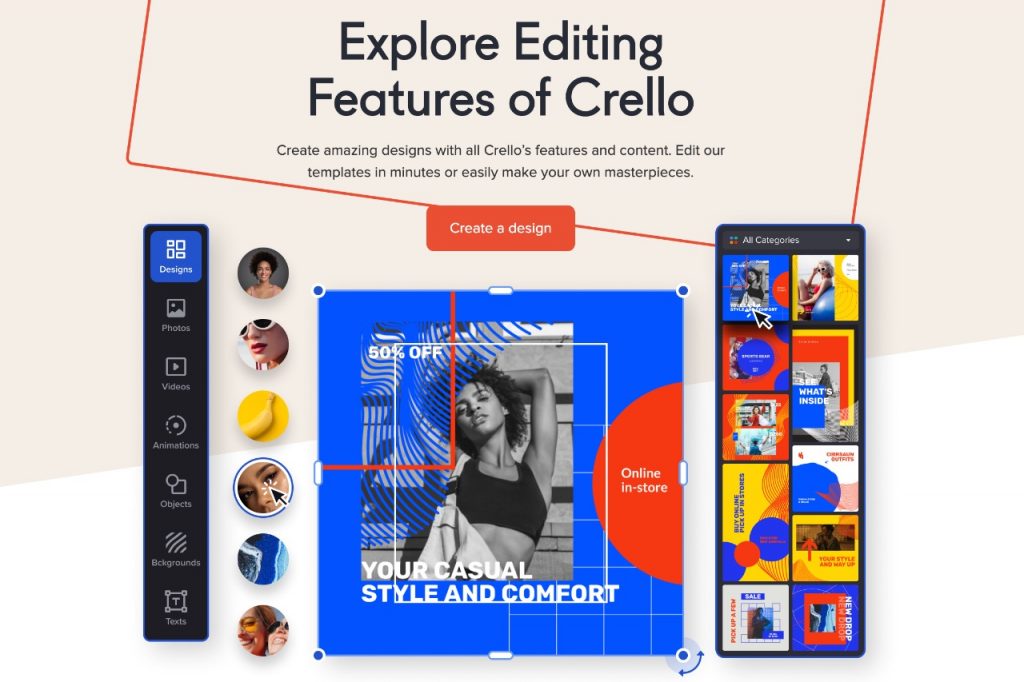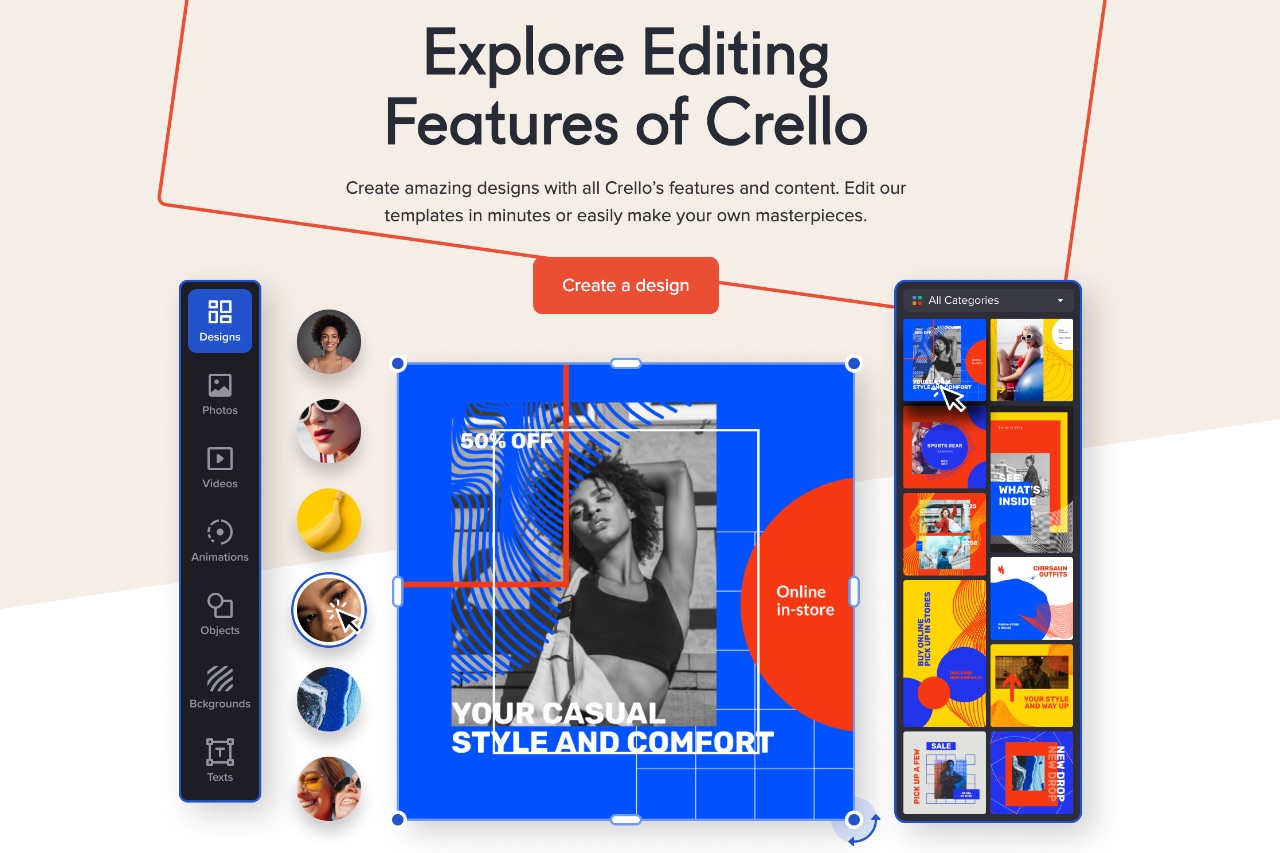 Need to Install: No
Source Type: Closed
Uses Flash: No
Service Type: Freemium
VistaCreate is a graphic design tool that helps to create visual content of all types in minutes. Perfect for marketers, bloggers, small business owners, and everyone who needs beautiful, professionally-looking visuals for social media, web, and print materials.
Once you sign up for VistaCreate, you get access to 30,000+ pre-designed templates and can customize them to your individual needs in VistaCreate's artboard. In addition, their drag-and-drop editor provides dozens of features to personalize graphics and craft genuinely original designs from scratch. Most features are available for free account holders.
A massive library of static and animated templates, with over a million images and royalty-free stock files; audio and video files to add to your designs; the opportunity to design via a multi-user account; image background removal; content creation with Brand Kits – all these perks make VistaCreate worth trying.
Even if you lack design skills, this graphic tool can create impressive visual content. More than 50 design formats are available: social media posts and covers, online ads, infographics, posters, presentations, business cards, logos, video posts, and more.
2. DesignCap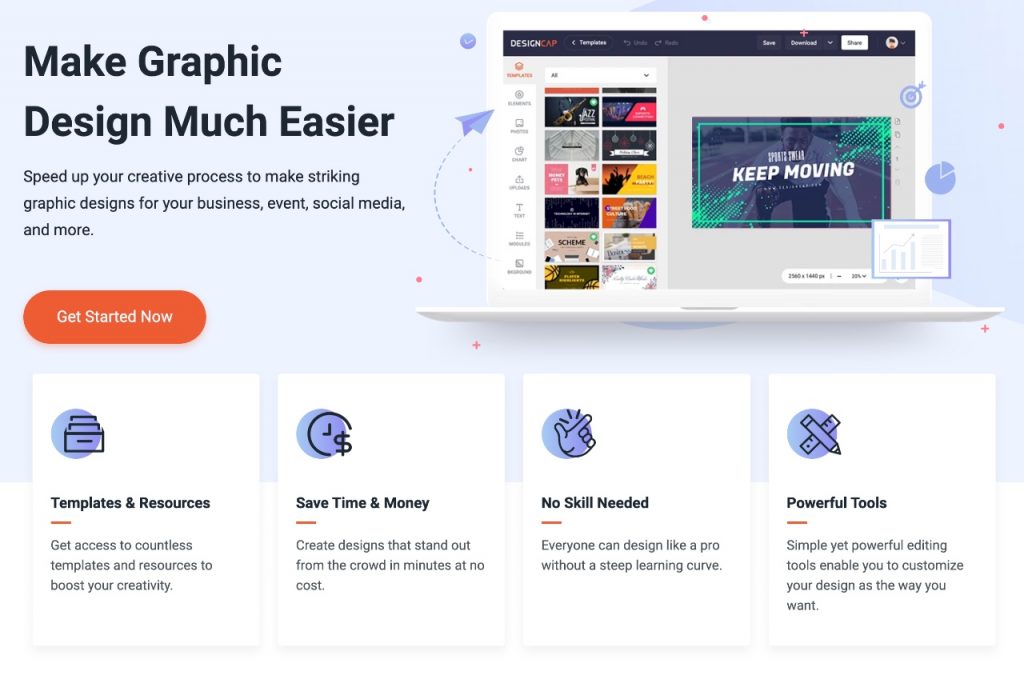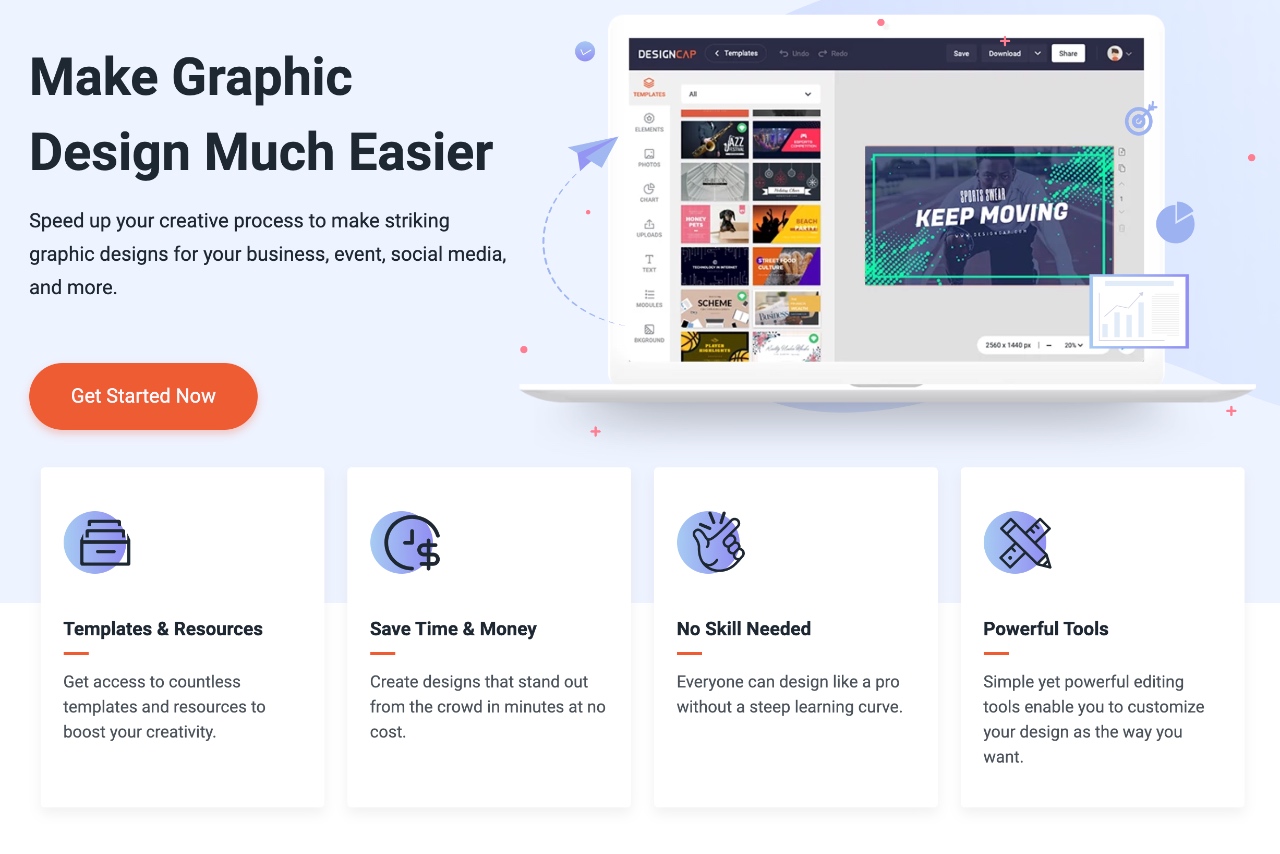 Need to Install: No
Source Type: Closed
Uses Flash: no
Service Type: Freemium
DesignCap is really powerful, but there is no steeper learning curve, even if you use more conventional graphic design tools. The steps involved in creating a new image design:
Select a template (thousands of professionally made templates for different design topics like infographics, presentations, reports, business cards, posters, flyers, YouTube channel arts, Facebook covers, Twitter headers, Pinterest posts, etc.)
Add elements like shapes, icons, photos, lines, charts, modules, and backgrounds.
Add or edit text (including manual adjustments and pre-created text styles).
Add gradient/solid colors or patterns to the background.
Share the final design anywhere.
This workflow takes some getting used to. One of the most practical aspects of DesignCap is that it has millions of stock photos and millions of icons, so you can easily find one that suits your design style. Upgrading to the paid version, you can access more options, the most important of which is creating a graphic design using a custom size. DesignCap also provides the "Learn" and "Templates" links, which is a smart touch. You can quickly get inspiration from those resources, even if you have no idea in mind. There are no obstacles to getting up and running it quickly with the straightforward interface, even if you are not familiar with Photoshop tools or with little design experience.
3. Visme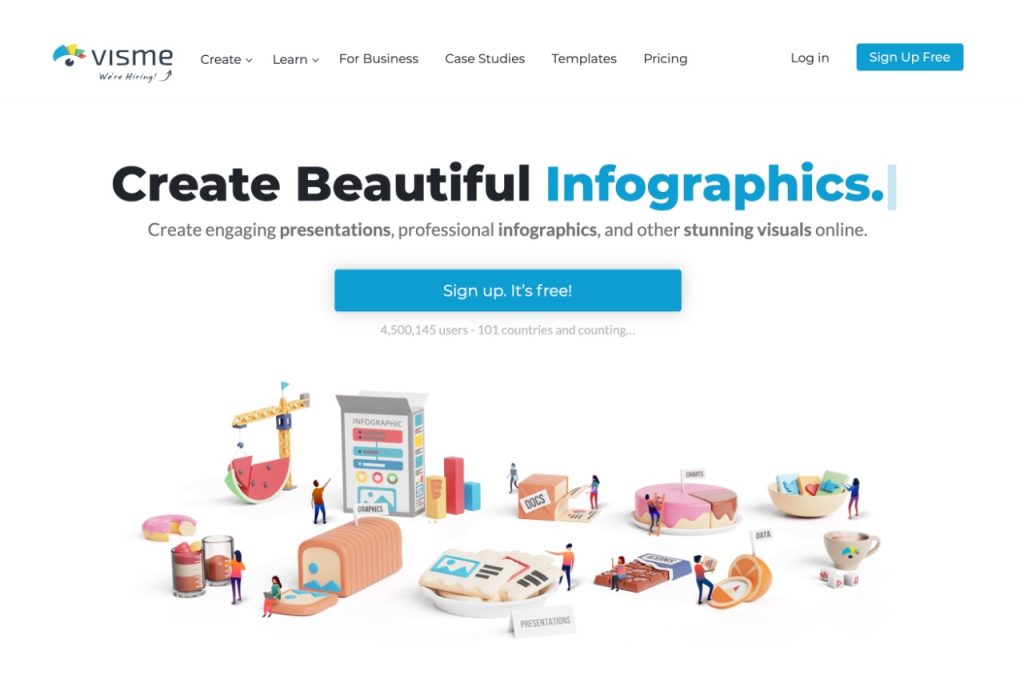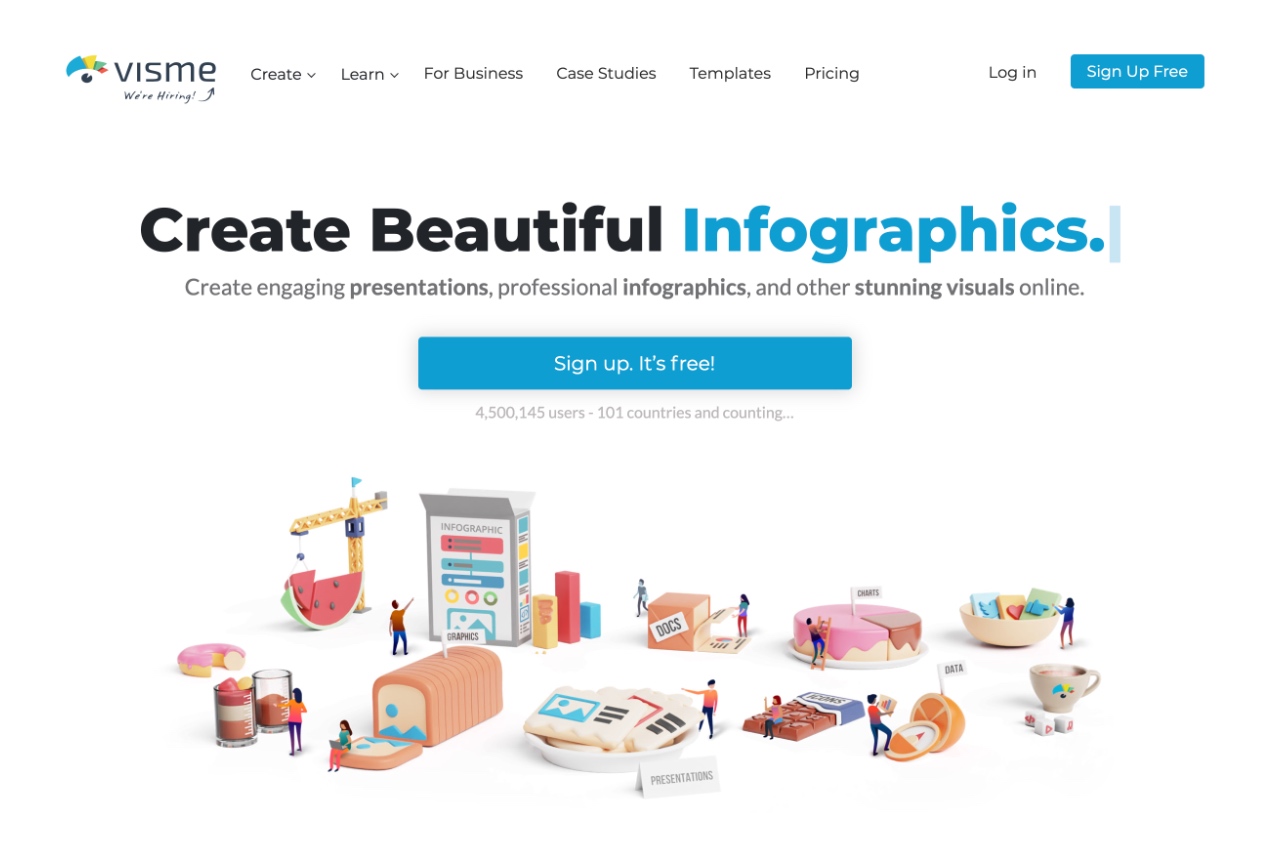 Visme is an all-in-one content creation tool that allows users to create stunning presentations, infographics, reports, social media graphics, and more. The best part is your design process is both quick and easy. With thousands of reports across various content categories, users can easily pick one best suited for their needs and quickly swap out colors, fonts, content, icons, photos, and any other graphic element they need to update. In addition, Visme's intuitive editor allows users to have as much or as little control over design elements as they want. Want to create an interactive experience with pop-ups and animation? Go for it. Want to create a basic promo Twitter graphic? You can put together a beautiful design in minutes. Plans with Visme start at absolutely free, with its premium plans starting at $14/month, paid annually. All design elements inside the platform are available for use in any design and plan, but some templates and download formats are only available in premium plans.
4. Venngage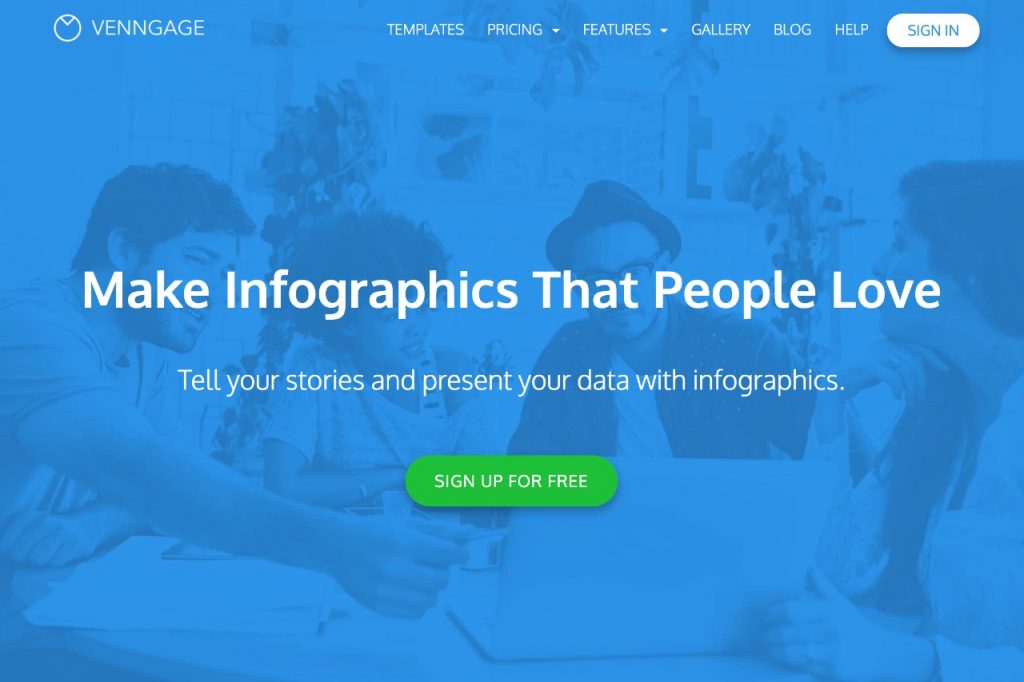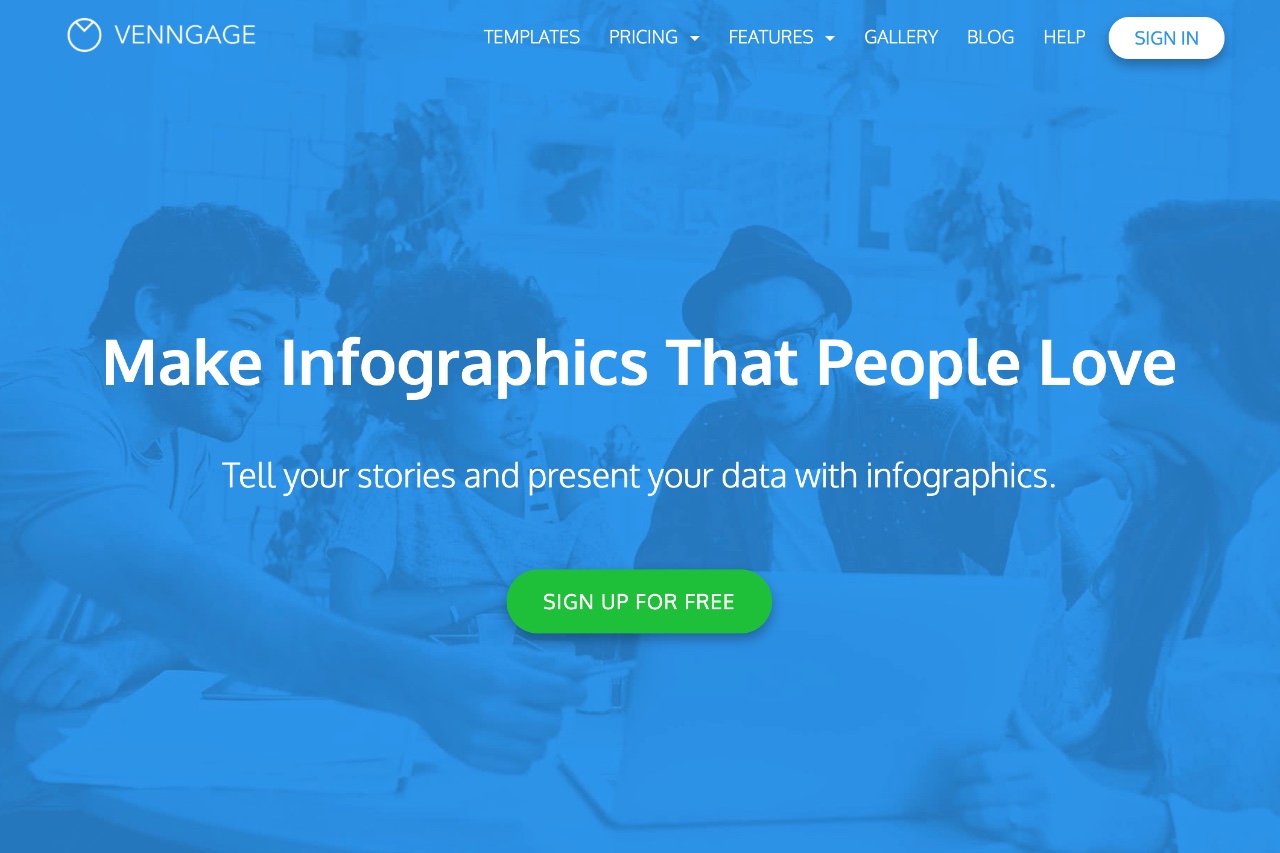 Venngage is an online infographic maker and design platform that helps marketers create easy-to-edit and professional designs.
Choose from over 10,000 visually appealing templates to create infographics, presentations, eBooks, and white papers. All templates are highly customizable, so you can showcase your brand and message.
With numerous data visualization options, Venngage makes even the most complex data tell a compelling story. You can easily import your information directly into the Venngage editor, and the charts work for you.
Venngage also includes a 'My Brand Kit' tool that makes branding all your visuals possible with the click of a button.
With a solution like Venngage, marketers can create stunning infographic designs to help them realize their business goals and reach their target audiences.
5. Template.net
For our users, Template.net produces Premium Designs and Documents. They are a Committed Global Team of Writers, Marketers, Designers, Artists, and Coders.
Their only focus is making the world's job gets done faster and smarter.
Why start from the beginning when their enormous collection of beautifully designed, instantly downloadable, professionally designed, ready-made free templates that are simple to edit, share, and print will help you finish your task more quickly?
6. Fotor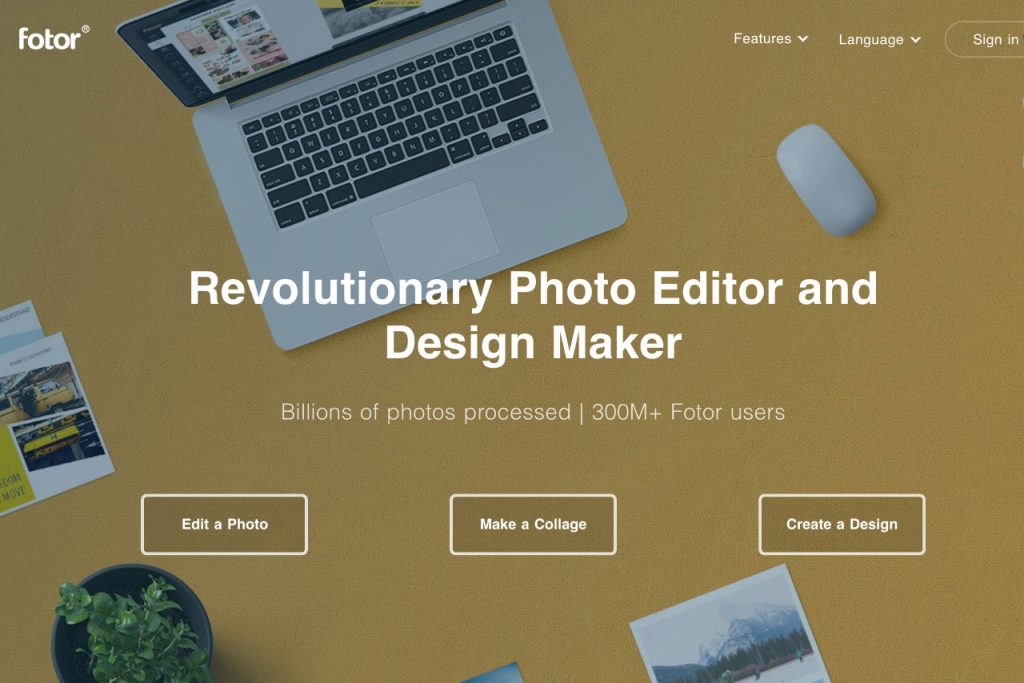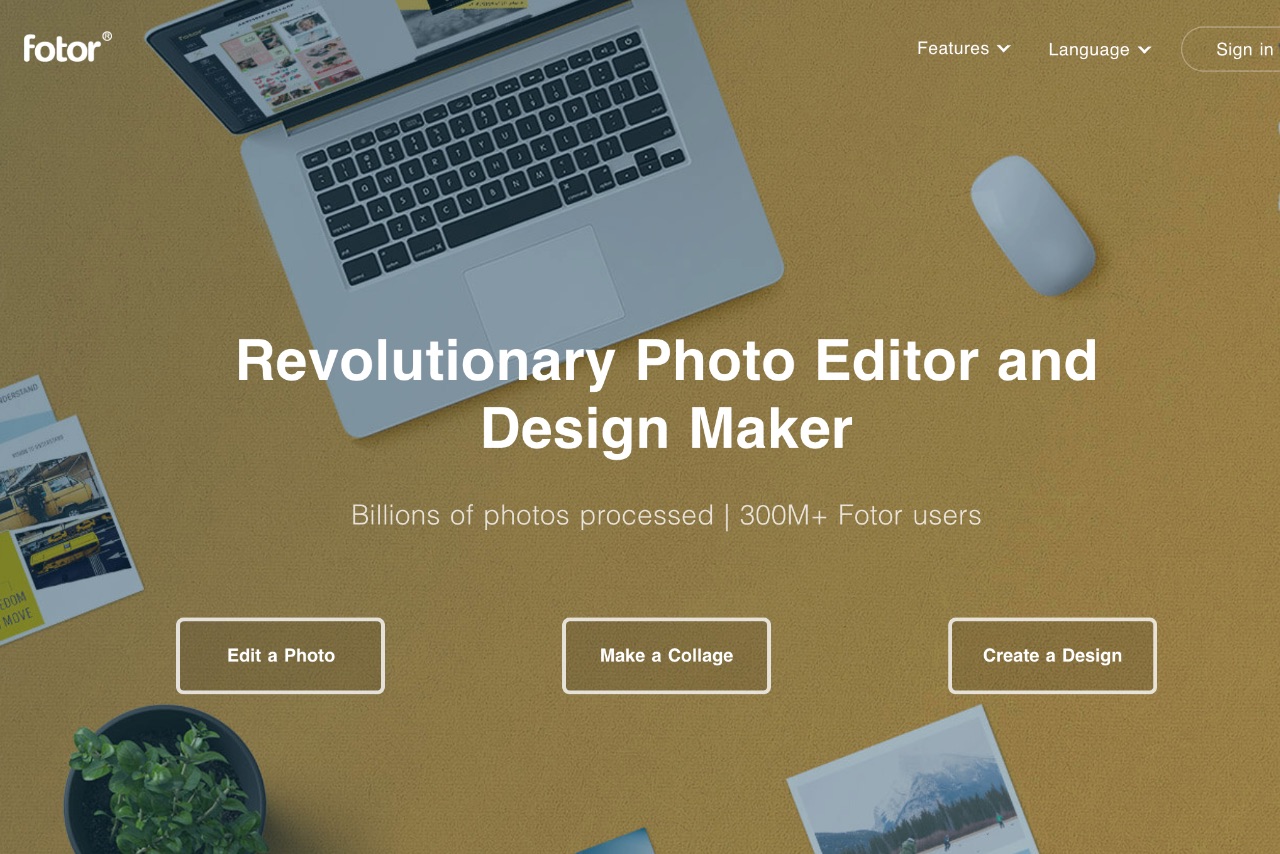 Need to Install: No
Source Type: Closed
Uses Flash: yes
Service Type: Freemium
Fotor is, fortunately, a little different from some other online graphic designers. Clicking the links on a browser will direct you to download the mobile app on Google Play. Users of real computers apparently do not use Linux.
Ah, well, what you get with Fotor are three tools: one for photo editing, one for making photo collages, and another for creating graphic designs. Many of the resources and features are free to access. But if you want to access more design options, advanced features, and an ad-free experience (if that's important), you should upgrade to the paid versions.
Fotor would have a higher rating, except to exclude Linux and Unix users from accessing its product, which is actually the market sector most likely to search for and use that product. The average non-corporate Windows user is likelier to find only pirated versions of Adobe products and install them, along with all the viruses and malware accompanying pirated software downloads.
7. Desygner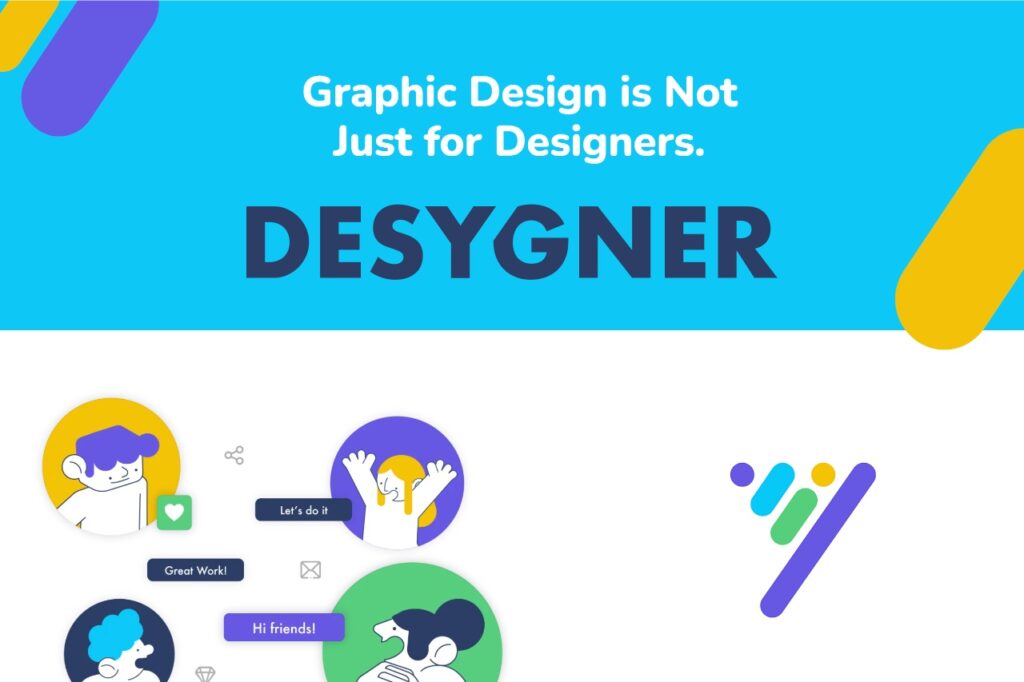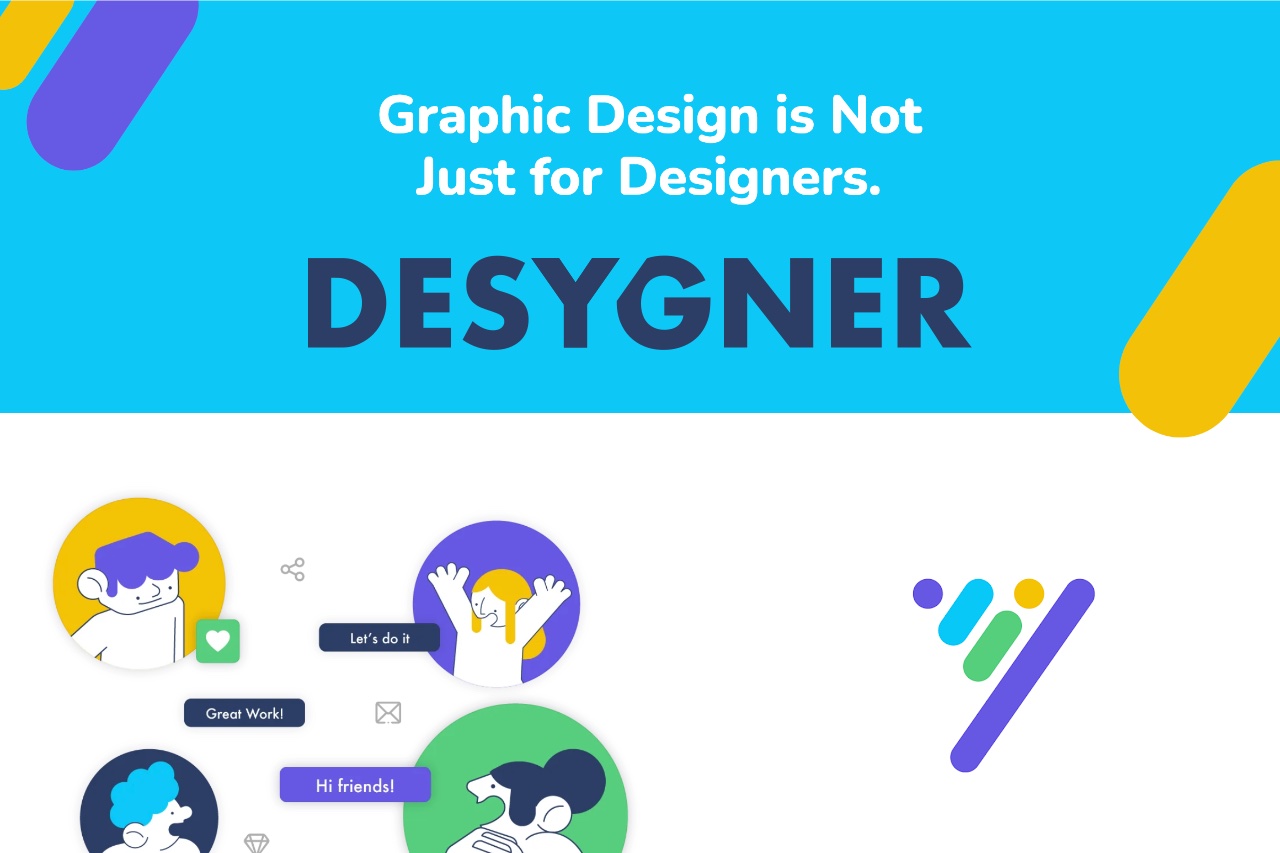 Need to Install: NO
Source type: Closed
Uses Flash: NO
Service Type: FREEMIUM
Price: Free, $4.95, $9.95
Desygner is a graphic design tool for non-professional and professional designers.
Over 20 million users and 60 thousand businesses use Desygner because it has easy-to-use editing features and royalty-free images. You can choose professional images for your project within over 190 million stock images. It's easy to design logos, social media covers, images, banners, marketing material, invitations, cards, and presentations online. Use Desygner to have something better than great. You can find the perfect asset for your project, it has vectors, illustrations, and images to choose from.
How to use Desygner?
In short, with Drag and Drop Software, you can do it all and collaborate with teammates.
Features:
Print
Online Graphic Design Editor
Royalty-free Images
Resize Image Online
PDF Editor
Brand kit & Library
Lockable Design
Branded Templates
8. Freepik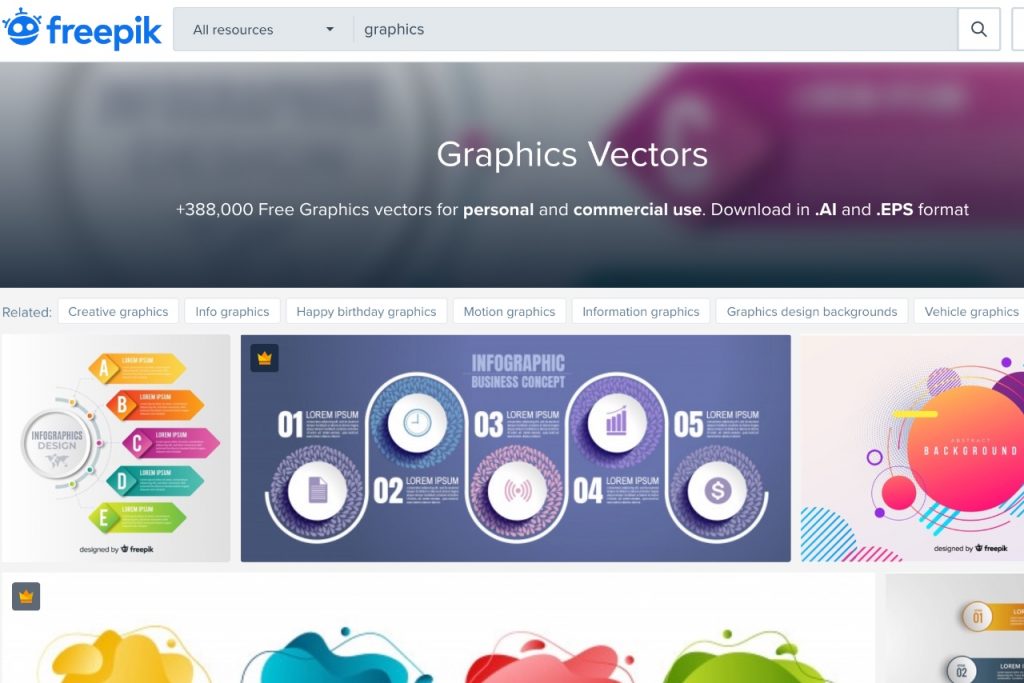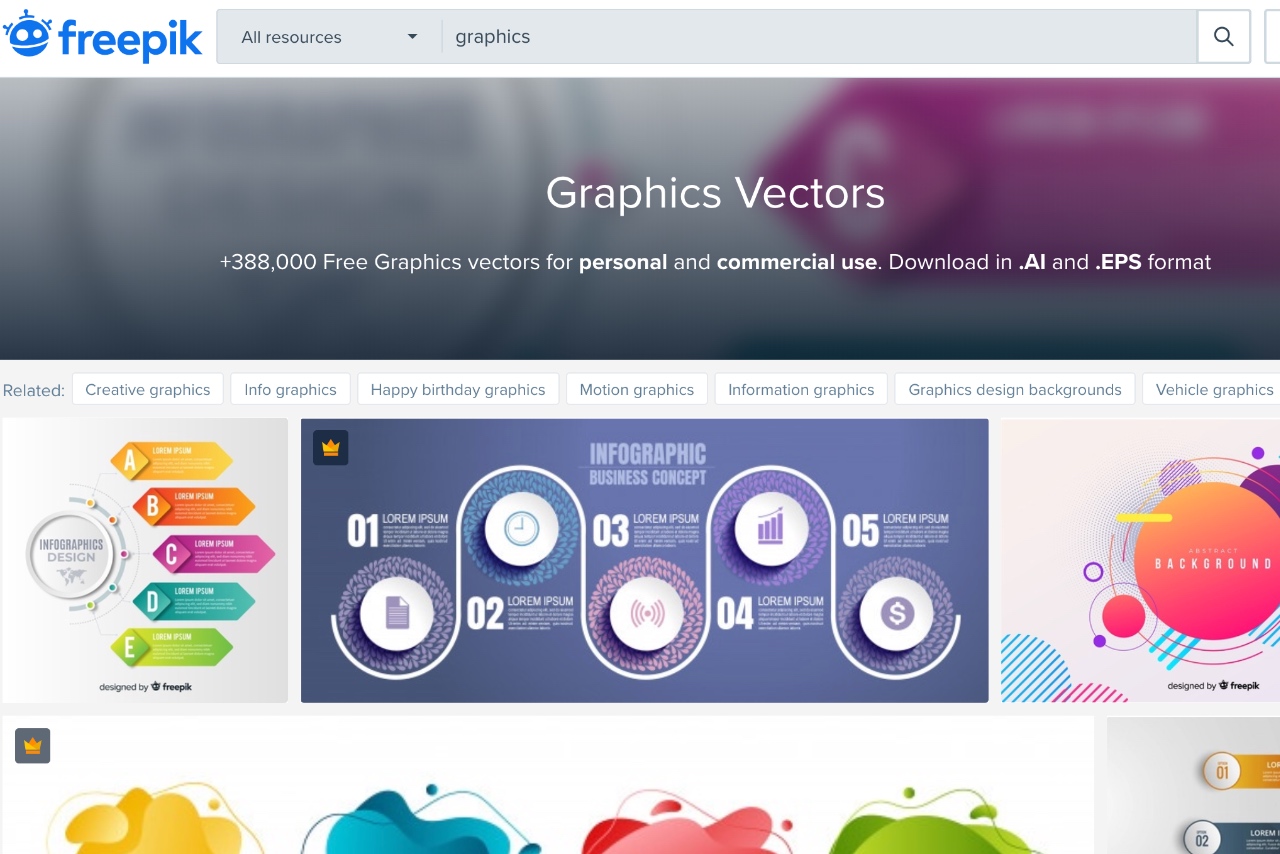 Vectr and Gravit Designer are two of the best free vector graphics editors, with capabilities similar to Adobe Illustrator. It allows you to create graphics, icons, logos, illustrations, and presentations.
Starting an infographic from scratch with this tool requires certain technical knowledge in design. But infographics created with .eps or .ai extensions that you will find on the Internet can easily customize by modifying the text and color. Find an infographic on the Freepik website, for example, and customize your design on Gravit.
Freepik is a search engine for photos, illustrations, vectors, and PSD files to adapt and incorporate into our infographic. In addition, there is an extensive collection of free designs in eps vector format to download and customize with our text and color through tools such as Inkscape and Vectr.
9. BeFunky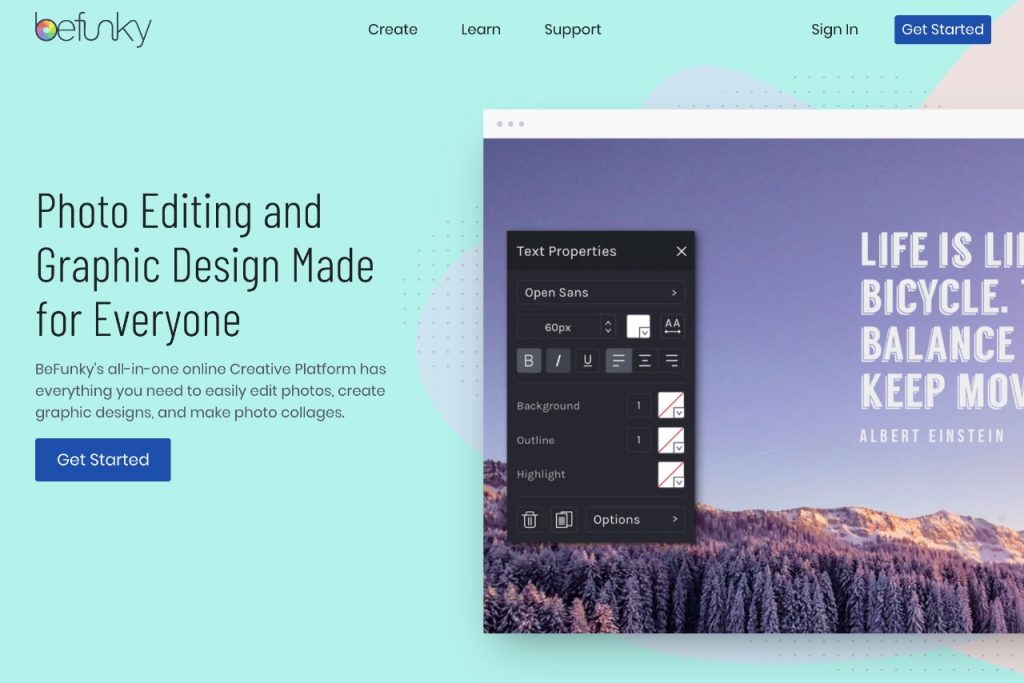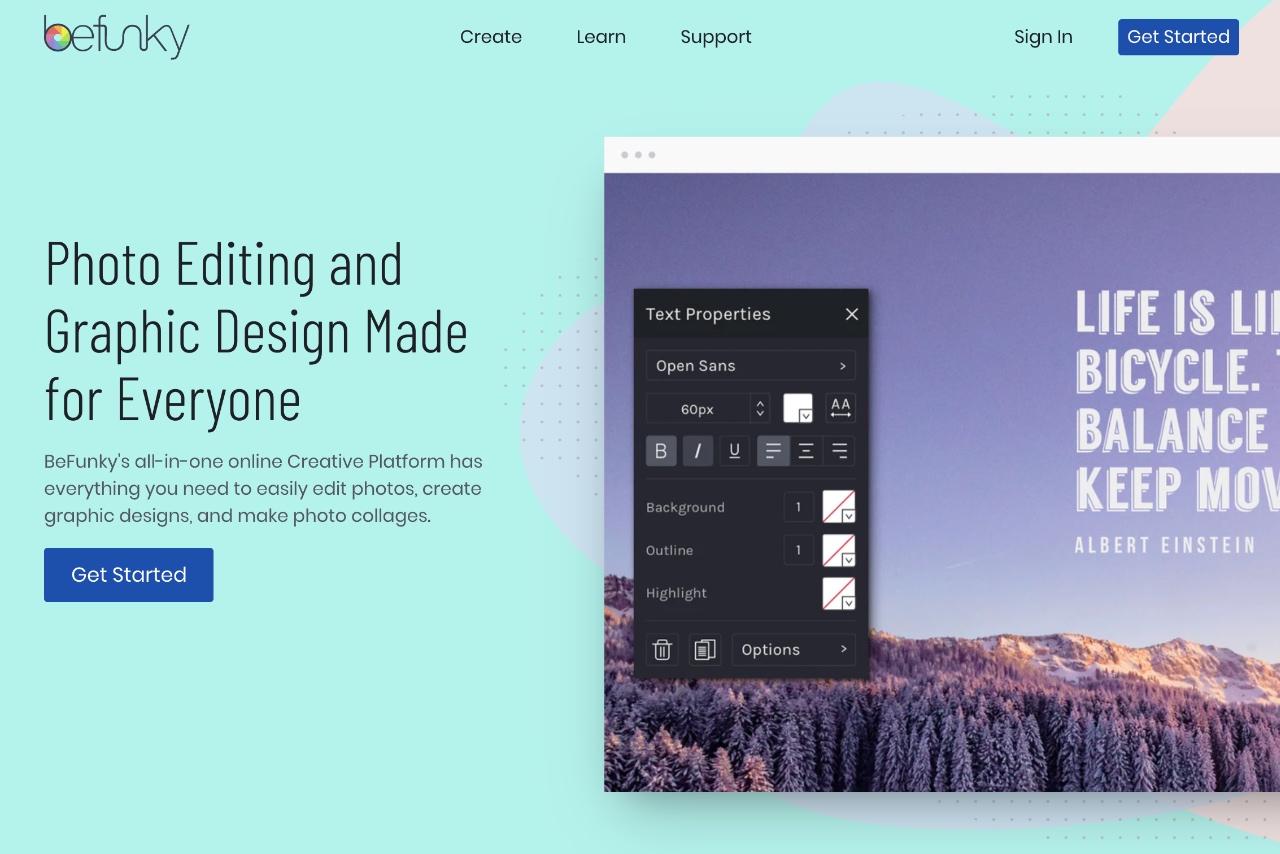 Need to Install: No
Source Type: Closed
Uses Flash: Yes (except the iOS version)
Service Type: Freemium
BeFunky offers a combination of tools – Photo Editor, Collage Maker, and Graphic Designer. Upgrading to a paid account gives you access to more features and allows higher-resolution output. However, the maximum permitted output image is 4000 × 4000 pixels, probably less than you would like to produce for printing. The updated version also allows you to work in full-screen mode and does not include advertisements. However, for $ 34.95 a year, the subscription is not the wrong value.
The most significant difference between BeFunky and Fotor, a similar app to BeFunky, is that BeFunky works perfectly on Linux and Unix, which is definitely a significant advantage. In addition, the internal options provided allow you to create banners, leaflets, posters, cards, infographics, and brochures.
The interface is somewhere between Pixlr and Canva, but it is more intuitive than Canva and less than Pixlr. In fact, there are more tools available than the first glance will show, but they worked on the content to suit the model, so the first thing a visitor probably thinks is, "Ah, it's a renamed version of Fotor," which actually it is not.
BeFunky includes a tutorial section on its website, which is really detailed and shows many of its products' best features. The tutorials will help you get familiar with the applications quickly. There are even features that you won't find in PhotoShop as standard options.
10. Genial.ly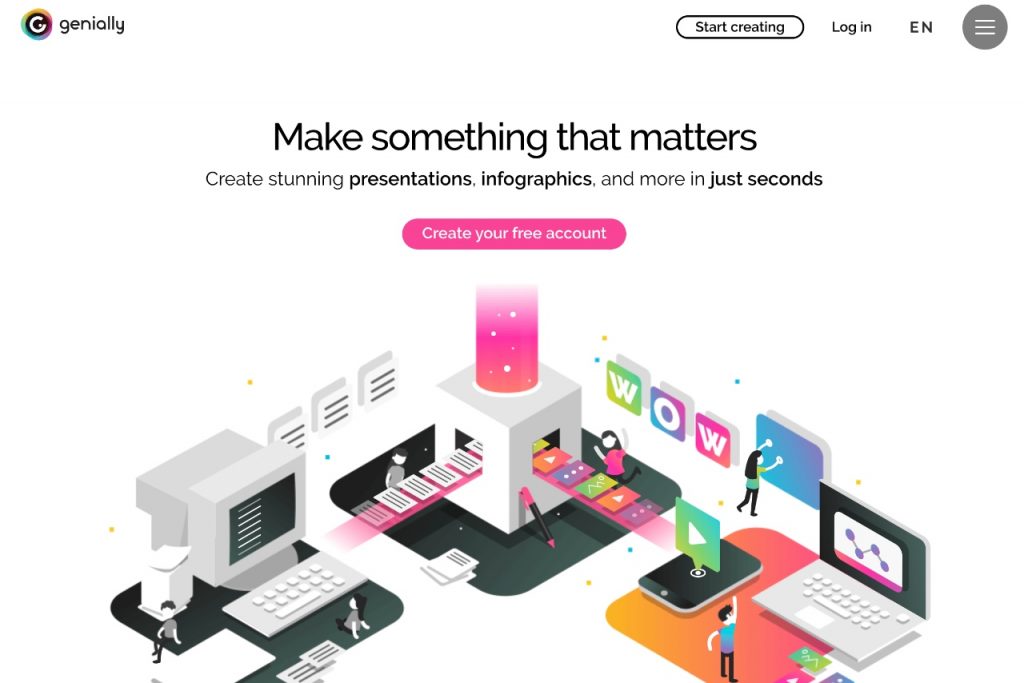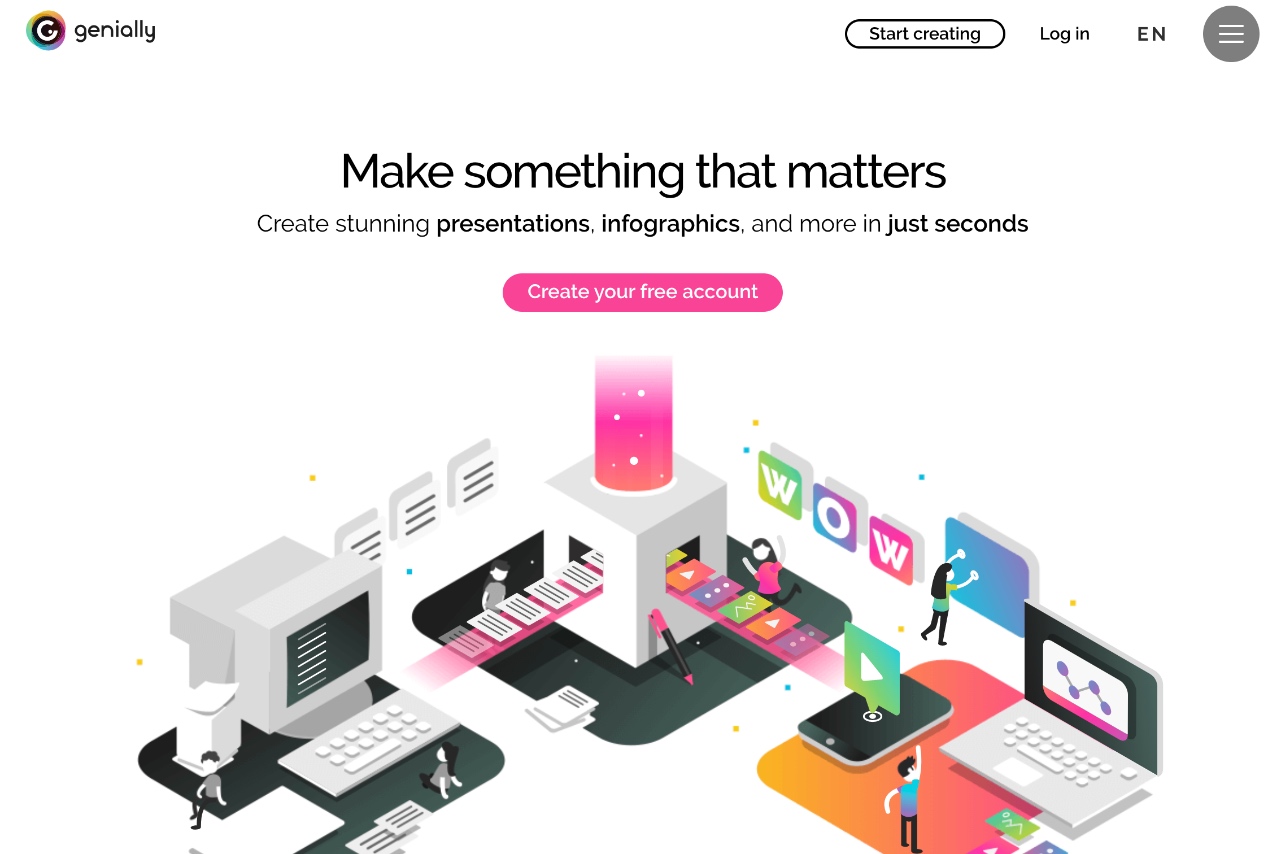 Genial.ly is a fantastic tool for interactive visual presentations. It offers various infographic templates to capture the information and data to be transmitted. Its additional value to other options such as Canva or Grafio is the ability to include multimedia elements such as videos, GIFs, and web links within the infographic, essential to capture the student's attention or audience during the presentation.
With Great.ly, you can create almost anything you can think of! Presentations, games, interactive images, infographics… today, I will tell you more about, what I consider, one of its strengths and less-known tools: Interactive books. By designing interactive books with the Genially web tool, I have given life to these universes of knowledge that also help reduce master explanations. All theoretical information is present in them, and the students discover it naturally and intuitively, thanks to the possibility of ordering it in layers of Genial.ly. Moreover, they have the advantage of adapting to the vast majority of our students' learning styles, increasing their motivation to learn, autonomy, and participation.
11. Giphy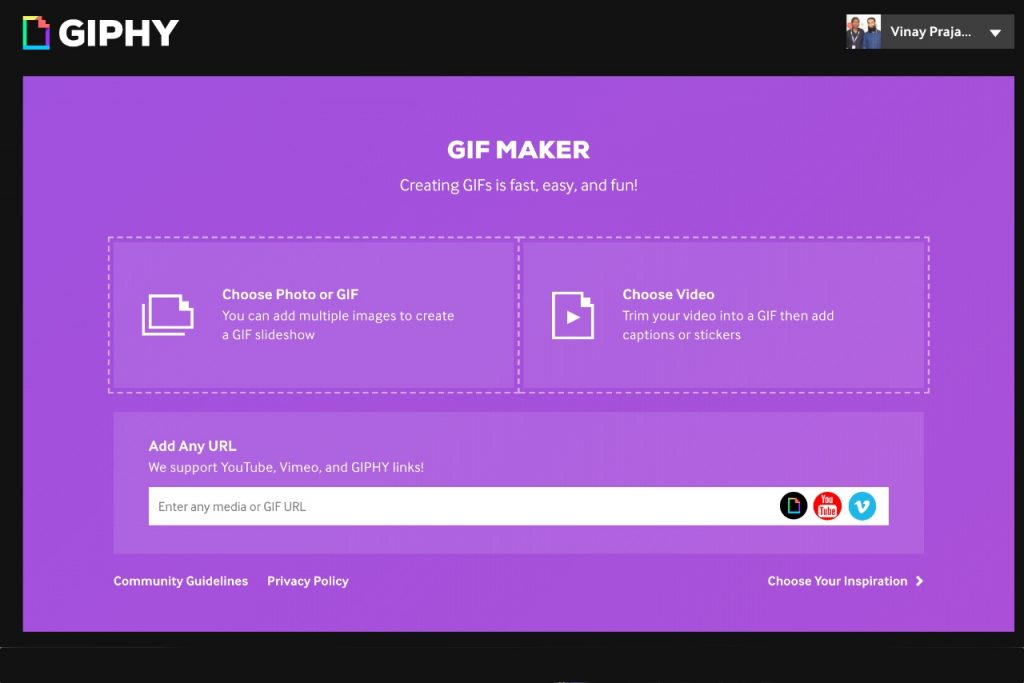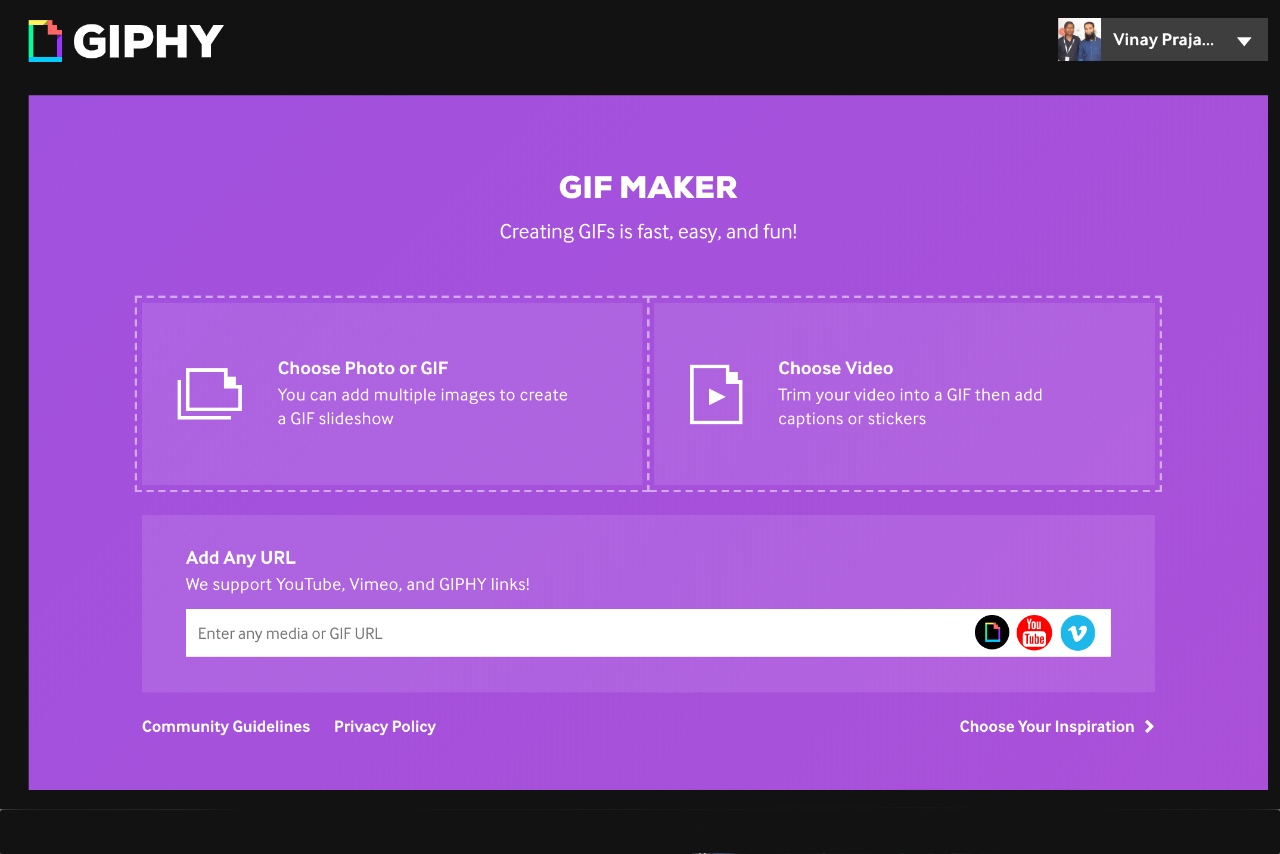 Gifs are images with movements that last a few seconds and are repeated in loops. They are in fashion because it is an iconic and very fun way to express yourself. Like emoticons, this type of animated file captures people's attention for its ability to convey ideas and emotions quickly and efficiently.
You can design and create your own gifs or download them from sites like Giphy, a website where you can make a GIF from a link. You can also upload a collection of GIFs you have and create a slideshow with several at once.
Using this can not be easier. All you need to do is choose a YouTube video, paste the link in Giphy, choose where the GIF should start, add text and tags if you want, and press the "Create gif" button. Then, you can download your animation, and it will also be automatically uploaded to the Giphy library, from where you can share it anywhere on the Internet.
12. Piktochart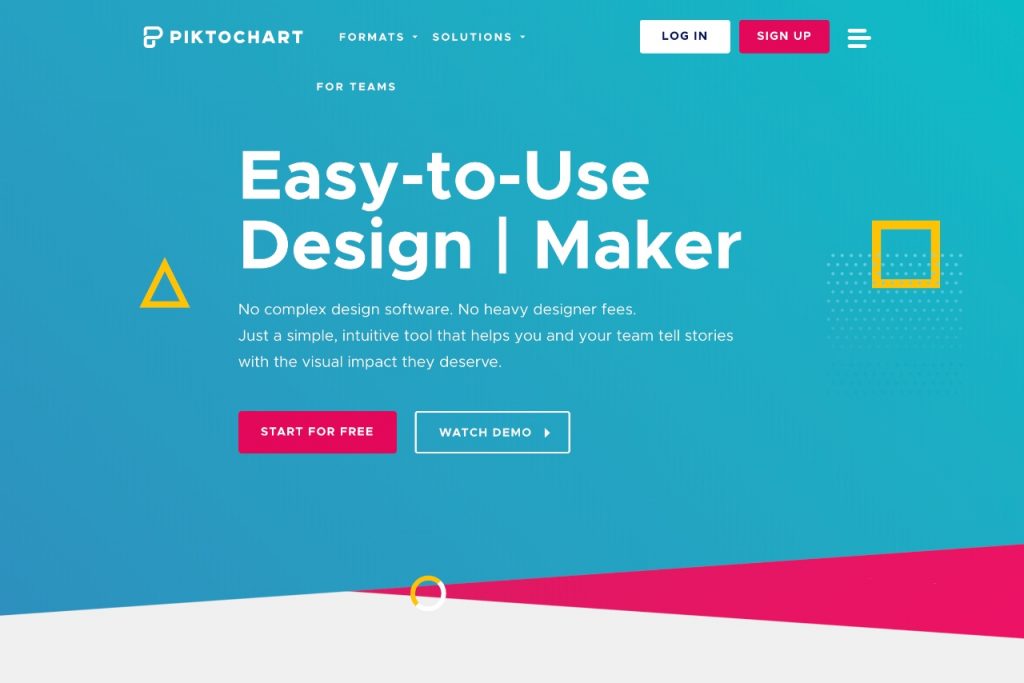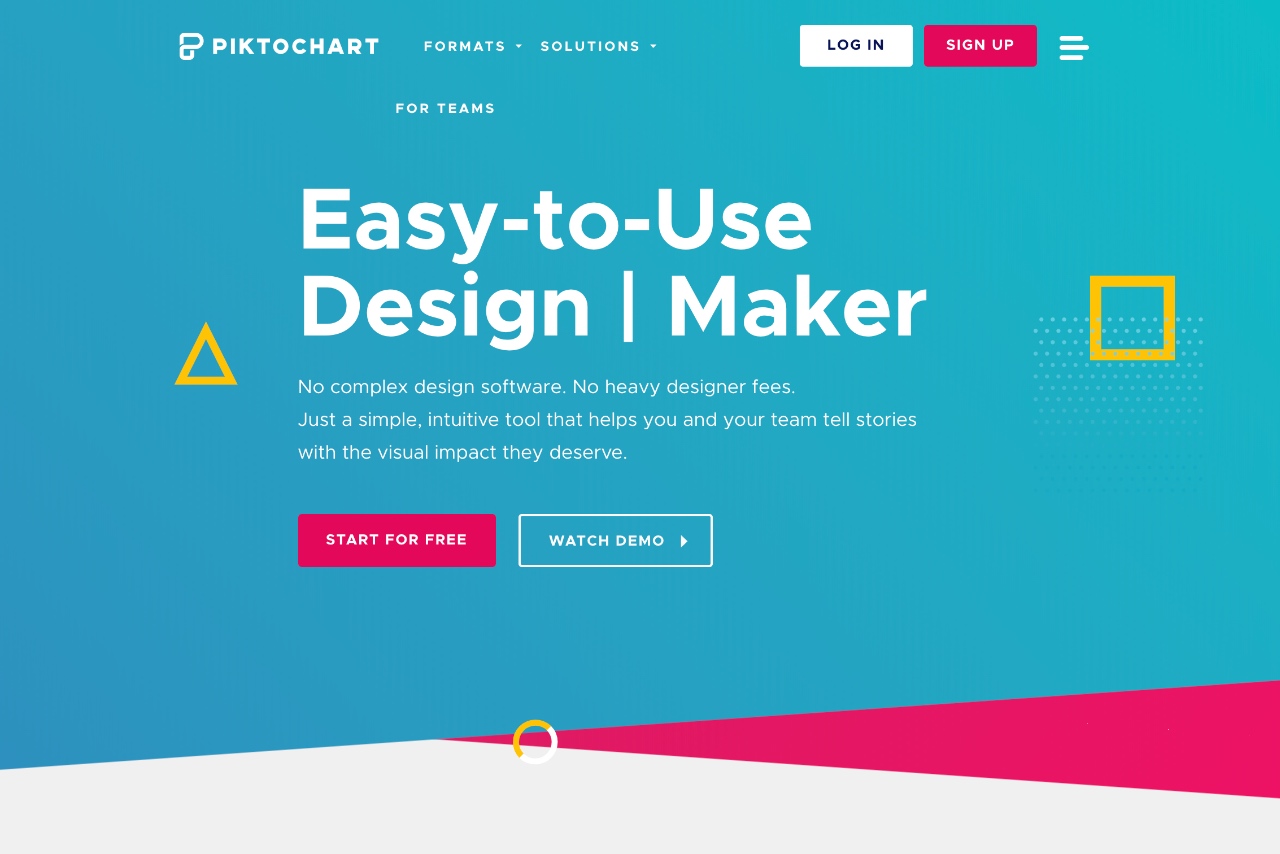 Need to Install: No
Source type: closed
Uses Flash: No
Service Type: Freemium
I really like what PiktoChart can do, but the worst is that they don't allow you to use it without registering an account. Instead, users are forced to create an account and log in, which is hardly what you want if you use it to design propaganda posters for your revolutionary Marxist group.
On the other hand, they are very generous with what they allow you to do with a free account. Unlike other freemium products reviewed here costing $5 or less per month, Piktochart wants to start comparatively from $24 per month. The paid version increases the upload limit, allows high-resolution exports, allows high-quality PDF exports, allows you to remove the Piktochart watermark, etc.
It is somewhat irritating and unpleasant that they are so aggressive trying to find out who you are. They don't even show the demo video unless you provide your name and email address.
Despite all these potential annoyances, I think the features offered in a free watermark account are good enough to justify using this product to create infographics. If it doesn't matter that your watermark appears in the image you produce or if you don't need high-resolution output, it's OK. However, if you will make some more infographics per month for professional use, it is worth paying because their quality is excellent.
13. Online Image Optimizer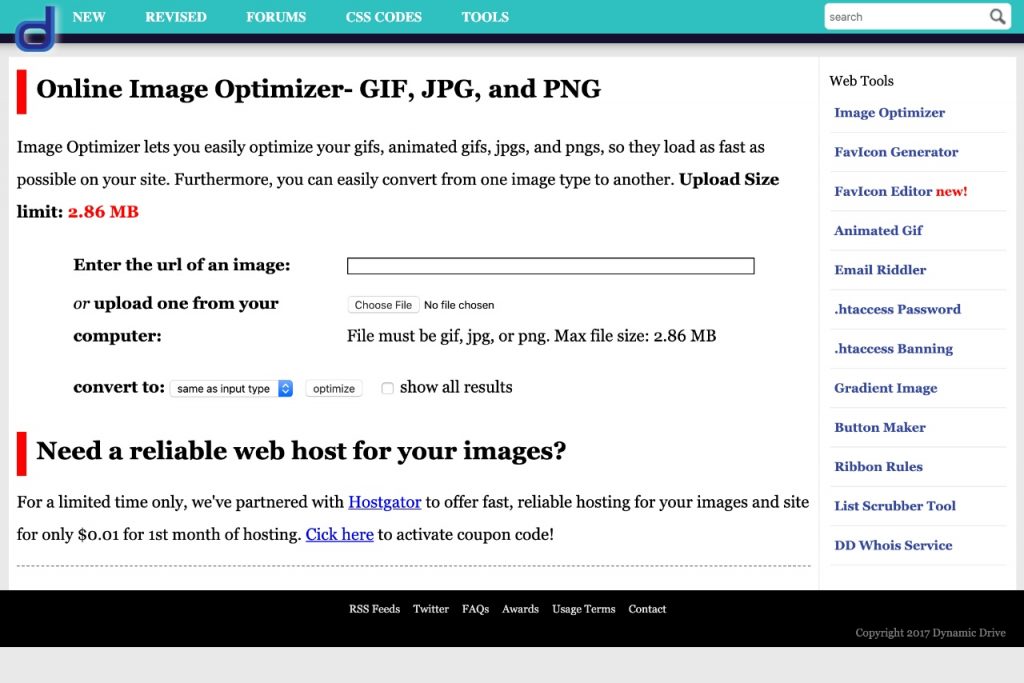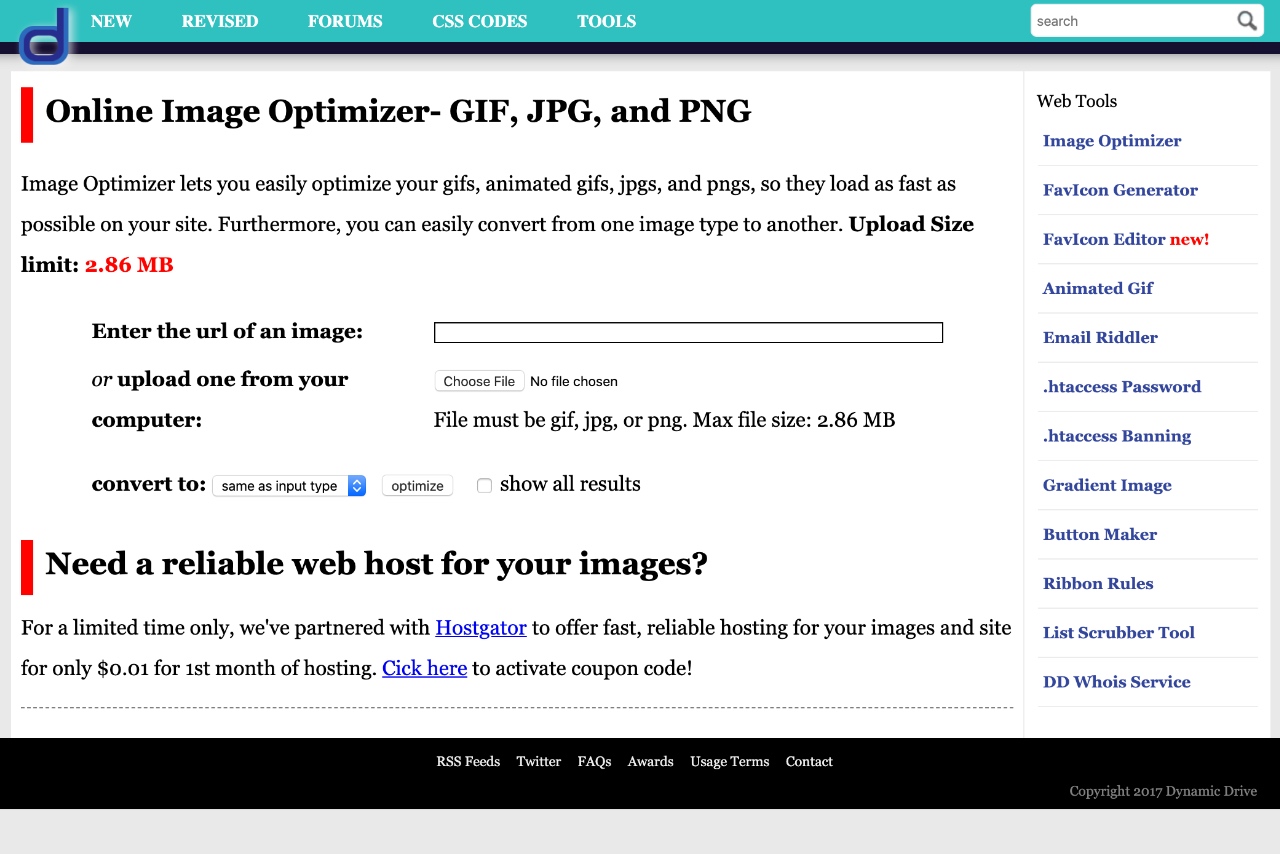 Need to Install: No
Source Type: Open
Uses Flash: No
Service Type: Free
Online Image Optimizer from Dynamic Drive has various free tools and scripts available, mainly for web design works. In this case, you can use the image optimizer to make an image more friendly to the web. Although it is limited to images with a maximum file size of 2.86 MB, this should not be a problem because if your image is larger than that, you should have already optimized it to some extent before using this online tool.
14. RawShorts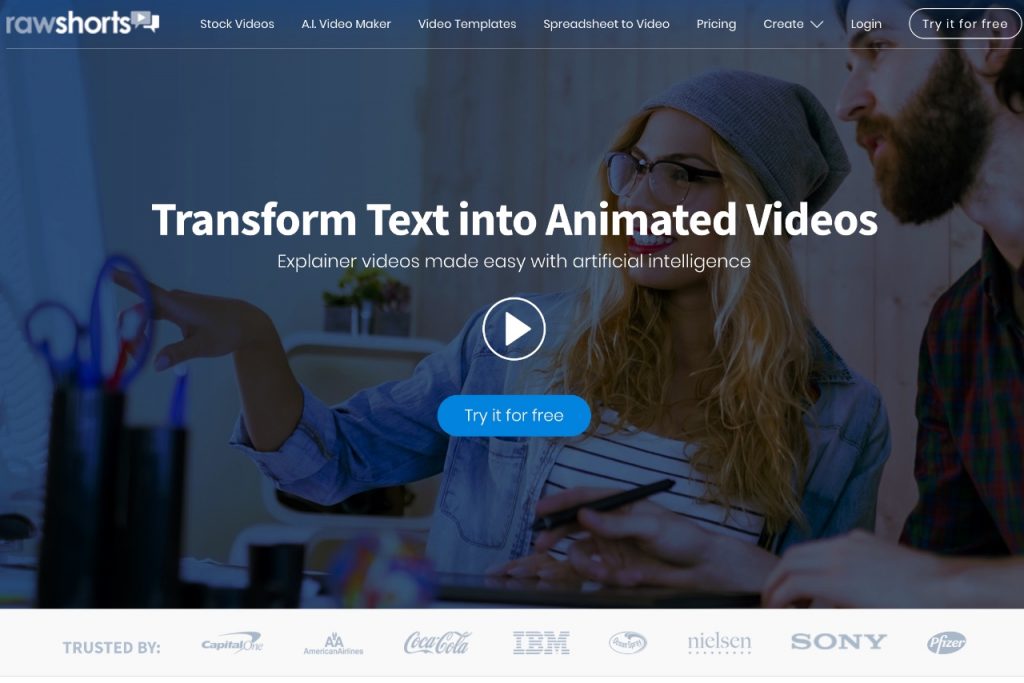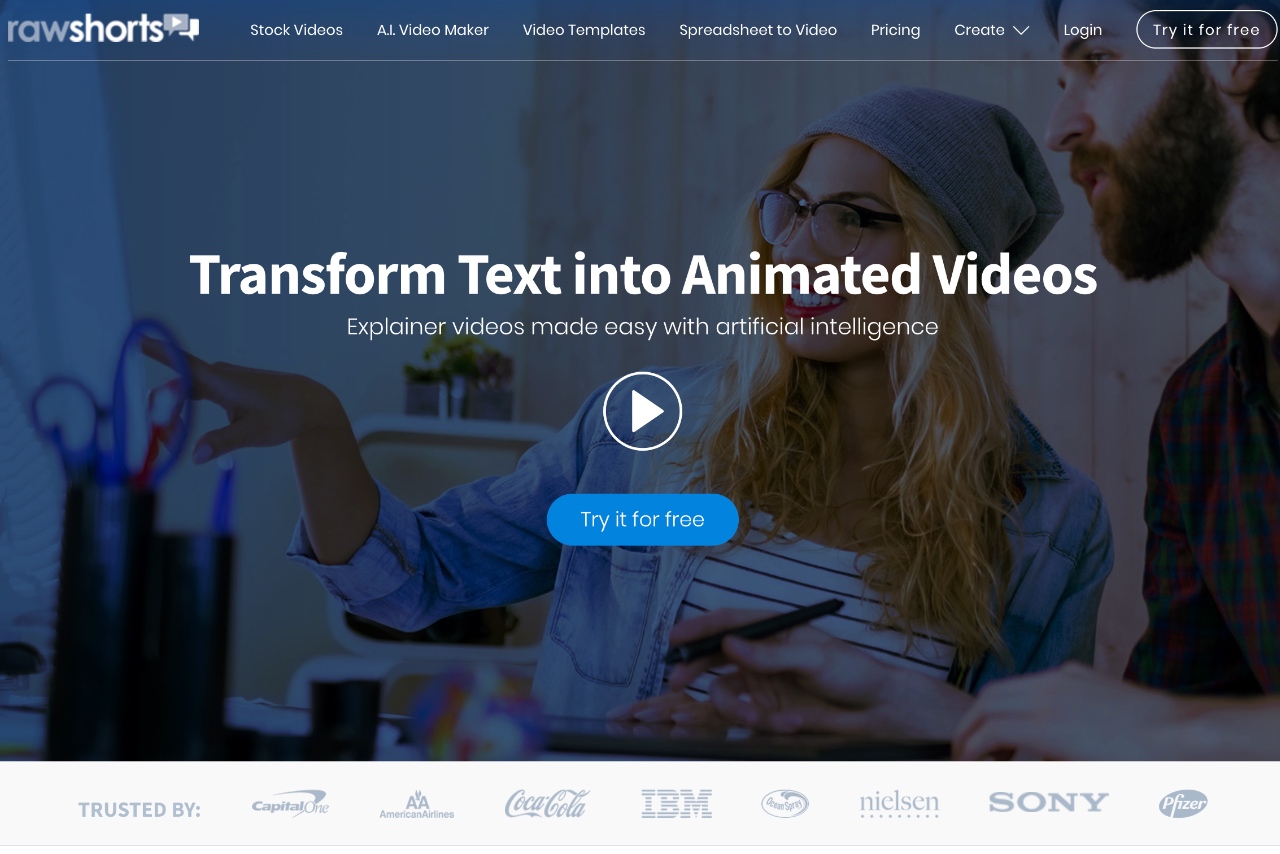 With RawShorts, you can create interactive and animated infographics that will surprise your audience.
The platform is built with many templates and a media library, which will still guarantee professional results. You can even build graphics and animated characters quickly. The tool is very interactive and intuitive. With a series of elements – most free – it is possible to create infographics from a template, customize it as much as necessary, or even produce one from scratch. You must subscribe to other plans if you want to access other system resources.
When thinking about design, remember that it must be functional and pleasant. You can even do a study of color palettes to contribute to engagement and maintain a visual identity.
Conclusion
Graphic designs are visual representations combined with information, data, or knowledge. It has become trendy on the Internet since these graphics allow us to capture and understand difficult concepts quickly. In addition, our brain is specially designed for visual analysis combining images with data. Therefore, visualizations help to transmit knowledge more efficiently than if we simply use text and numbers, which can be very useful in the classroom.
A few years ago, only a few academics, companies, and government institutions were interested in hiring graphics designers with access to large amounts of data. However, with the advent of free web applications and online data publications, it is now possible for everyone to create beautiful graphic designs.
People can learn to present much data creatively and funnily beyond the typical PowerPoint. All these tools make it much easier to produce an infographic. Isn't it?