Since the advent of internet markets, selling and buying have revolutionized. But, aside from e-commerce, the business marketplace has evolved swiftly, thanks to social media. These platforms are no longer confined to forging connections and publishing content. Instead, they have developed over time.
Nowadays, the Facebook marketplace caters to 2.91 million active users. It all started in 2016 when Facebook unveiled this new trading feature. This platform enables consumers and vendors to conduct easy sales and purchases. For local businesses and small companies, Facebook Marketplace is the greatest option. Users may sort out the goods they want to buy using several categories.
Anyone aspiring to be a trader can create a public auction on the Facebook Marketplace to trade off authentic goods, replacement parts, etc. Next, potential consumers contact the vendor to place their orders or pitch their prices in the comments thread.
But multiple customer concerns have slowed the expansion rate despite the Facebook marketplace's widespread appeal. For example, many customers have Facebook marketplace issues –
Why does the Facebook marketplace not working?
Why does the Facebook marketplace not loading?
Why is the Facebook marketplace search not working?
Is the Facebook marketplace down?
Why is the Facebook marketplace won't load?
Why does the Facebook marketplace unavailable?
Customers have also encountered difficulty listing their goods for sales. The functioning of Facebook Marketplace has thus grown challenging and inaccessible.
To understand the issue properly, first, we'll tell you the reasons "Why is Facebook marketplace not working, then share the problem fixes with you.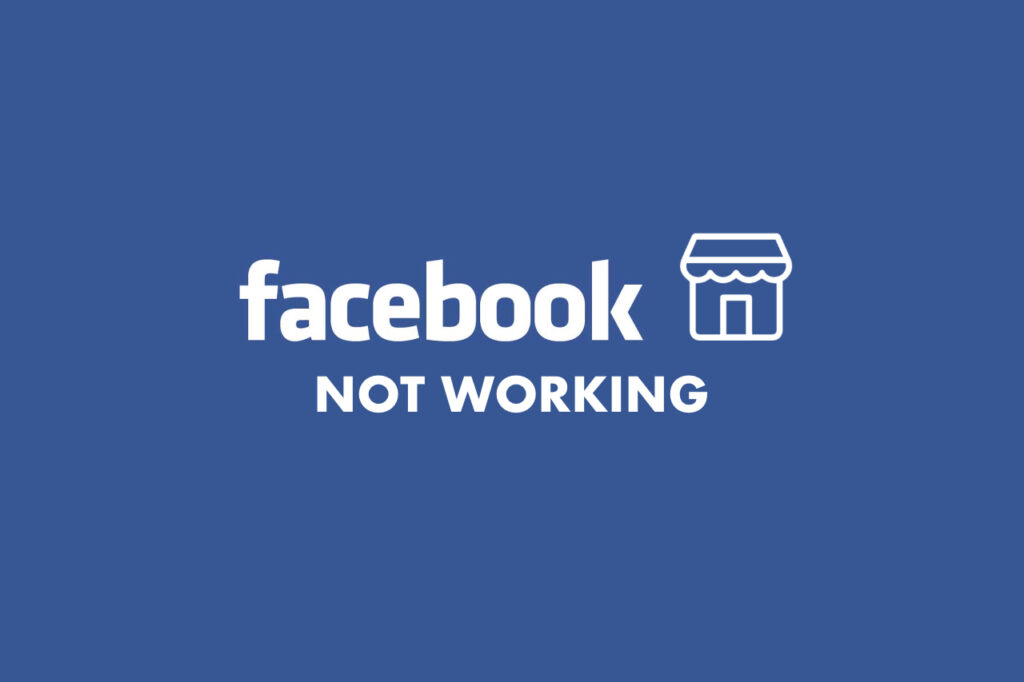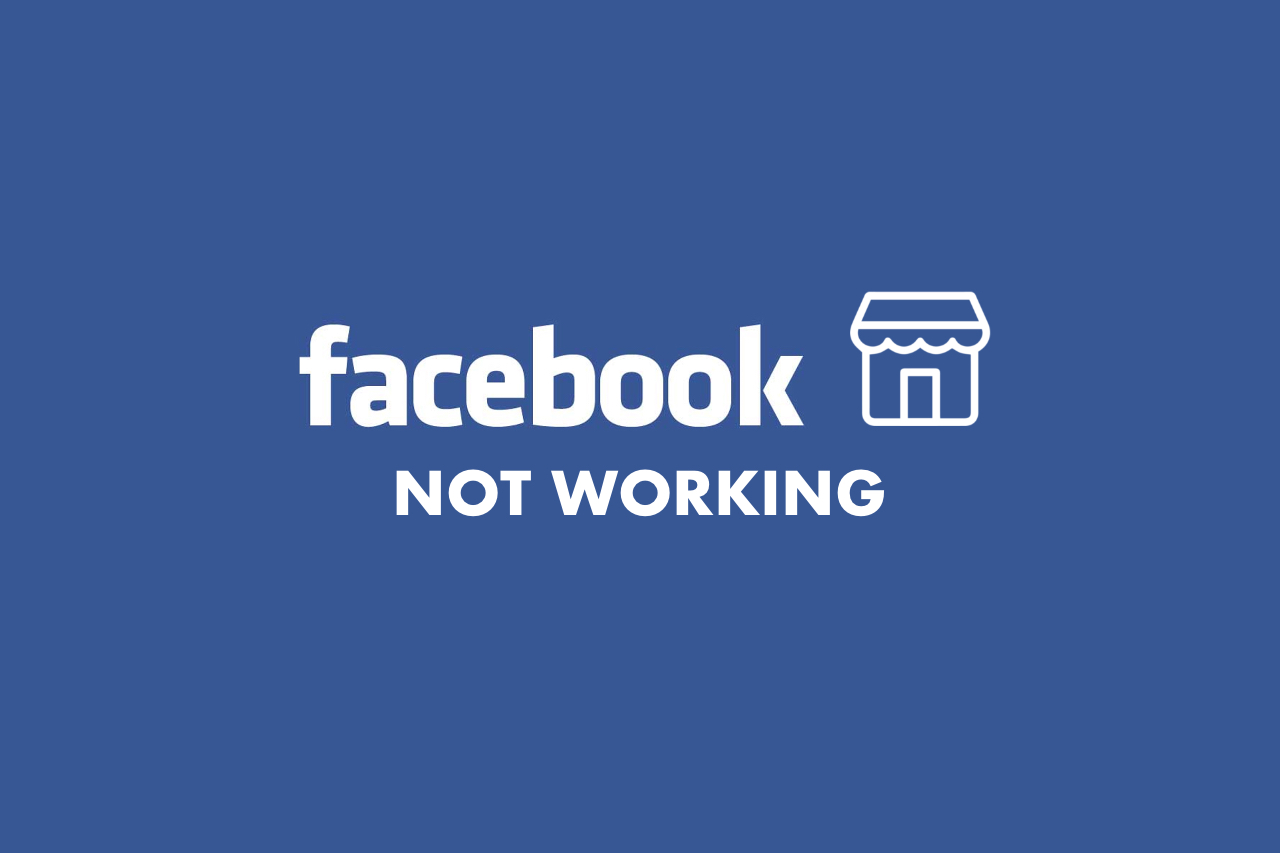 Reasons: Why Is Facebook Marketplace Not Working
Note: Both Android and iOS smartphones can use these instructions.
Let's take a quick look at some probable causes for –
Why is the Facebook marketplace not working &
Why is the Facebook Marketplace not loading
Outdated Facebook App
Our Facebook app frequently gets outdated without us even realizing it. Due to this, several features of the application may stop working correctly. Therefore, you should keep it updated to the most recent version to maximize the functionality. It's better to update your Facebook application from App Store and Google Play store and restart your phone to avoid technical glitches.
Underage User
Facebook Marketplace restricts users younger than 18 from using it. Therefore, if your date of birth shows you are a minor, the Facebook marketplace will be unavailable to you.
Many users, especially unworldly children, may fall victim to online scams because the Facebook Marketplace does monetary transactions.
Therefore, Facebook doesn't allow minors to use the Facebook Marketplace. Thus, it prevents any financial loss and undesirable transactions.
Slow Internet or Disconnection
Due to a sluggish internet connection, users may be unable to publish their listings, or even Facebook Marketplace won't load for them.
Ensure you have a high-speed internet connection. Use fast.com to check your internet speed. If you have a slow internet connection, fix it timely.
Slow internet connection following Facebook Marketing problems-
Facebook Marketplace not loading issue
Facebook Marketplace search not working issue
Facebook Marketplace not working issue
Technical Glitches
The Marketplace might not be functional because of some server-side operational glitches. Unfortunately, users can't do anything to resolve this. They can only check whether "is Facebook Marketplace down or not."
Facebook marketplace not working or loading means it undergoes regular updates, server maintenance, or faces downtime.
You cannot access Facebook Marketplace until their team resolves the issues. Therefore, you must give the Facebook team considerable time to examine and fix your issues.
So take some time to unwind because Facebook marketplace issues do not persist for too long.
A New Facebook Profile
Some features, such as Facebook Marketplace, might be inaccessible to new users. Moreover, Facebook sometimes restricts them from commenting or reacting to posts on their feed, groups, and pages.
To reduce spam on the platform and create a harmonious, healthy community, Facebook has implemented this safety precaution.
Therefore, all you need to do is sit tight calmly to remove the constraints. This temporary restriction is only for 72 hours. After that, you have a fully functional account.
Banned User
Specific guidelines you have unintentionally infringed, that's why the Facebook marketplace won't load for you. Because of this, your profile has temporary restrictions, and you can't access the Facebook Marketplace and its supporting features.
In case you listed a product or service that's against the Facebook marketplace's community standards. Check your inbox for any emails or messages from the Facebook team to discover more about the policy you violated and how long the restriction will last.
Following the Facebook Marketplace and community guidelines is a healthy practice. However, you might be lifetime banned from using the Facebook Marketplace for repeat policy violations.
Unavailable in Your Country
Only a few regions worldwide have access to Facebook Marketplace and its features. Nevertheless, Internet users in 70 countries are selling or buying through it.
The Facebook Marketplace is operational in the following countries:
| | | |
| --- | --- | --- |
| Argentina | Germany | Philippines |
| Australia | Greece | Poland |
| Austria | Hungary | Portugal |
| Belgium | India | Puerto Rico |
| Bulgaria | Ireland | Romania |
| Canada | Italy | Singapore |
| Chile | Latvia | Slovenia |
| Costa Rica | Lithuania | South Africa |
| Croatia | Luxembourg | Spain |
| Cyprus | Malta | Sweden |
| Czech Republic | Mexico | Switzerland |
| Denmark | Netherlands | Thailand |
| Dominican Republic | New Zealand | United Kingdom |
| Ecuador | Norway | United States |
| Estonia | Panama | Uruguay |
| Finland | Paraguay | |
| France | Peru | |
Summary: Why is Facebook Marketplace Not Loading
If the Facebook Marketplace doesn't load, people don't understand what's wrong with the Facebook marketplace.
Users experiencing these troubles are unaware of the bugs and features they encounter. Therefore, users must be familiar with the settings and technicalities to mitigate the issue of accessing the Facebook Marketplace.
Below is a quick summary of critical grievances:
If you are a new Facebook user, you must take considerable time exploring Facebook before diving into the Facebook Marketplace.
The Marketplace is only open to users who are 18 or above.
Only a few areas around the world have Marketplace accessible. The buyer and the consumer must be in a service location to do business.
Marketplace doesn't serve all languages spoken worldwide. Therefore, you can't use the service if the Marketplace is unavailable in your language.
Before accessing the Marketplace, users must agree to Facebook Marketplace's community standards. You can't access the Marketplace if you disregard the guidelines and likely encounter some processing issues.
iOS users may encounter trouble accessing the Facebook Marketplace. You can access Facebook Marketplace only on iPhone 5 or newer.
In addition to the previously listed causes, the "FB marketplace not working issue" also occurs due to two following reasons:
Users' slow internet connections might be the source of page loading latency.
Facebook server failure might hinder the market from functioning properly.
How to Fix the Facebook Marketplace Not Loading Issue Changing Browser Settings
Despite meeting the above requirements, users may still have trouble accessing it. To fix the Facebook marketplace not working issue, you must go through the crucial troubleshooting steps outlined in this article.
Clear Cookies and Cache
Users might run across Facebook Marketplace not working or loading issues while using it through a browser. Therefore, the malfunctions caused by these errors are almost certainly inevitable. However, users can effortlessly fix these glitches by wiping their browser's cache and data.
Due to heavily stored web browser cookies, cache, or temporary data, loading a page may occasionally fail. Therefore, wiping browser cookies, cache, or temporary files might help alleviate the glitch.
The procedure for deleting the data from Chrome is as follows:
Open Chrome on your computer.
Click the kebab menu (three vertical dots) in the top right corner of your browser.
Go to the option labeled More tools. From the extended list, click on the" Clear browsing data."
From the Time Range drop-down menu, choose the time range for which you've been experiencing the Facebook Marketplace issues.
For further insights, tick the "Cookies and other site data" and "Cached images and files" options.
Finally, click the Clear data button.
Next, close the Chrome browser and restart your computer. After that, launch Facebook Marketplace to see whether the issue persists or not.
Use Incognito Mode
Some browser extensions can often obstruct and impair specific Facebook features. Therefore, use Chrome's Incognito mode and sign in to your Facebook account to verify everything works swiftly. Unfortunately, it means some extensions are causing the Facebook Marketplace not loading issue.
Since the incognito mode doesn't load any browser extension by default, this might help you identify the Facebook Marketplace not working issue is due to an extension. A conflicting extension may cause the issue if the Marketplace load in the incognito mode. Consequently, the incognito mode could aid you in fixing the problem effortlessly.
Remove Conflicting Browser Extensions
The Facebook Marketplace won't load as intended if you have installed conflicting third-party extensions on your internet browser.
Some malicious third-party extensions may help spammers view, copy, and modify your Facebook account information. As a result, it is vulnerable to threats. Therefore, Facebook limits access whenever it detects shady activities on your account. Consequently, users encounter the FB marketplace not working problem. Therefore, delete similar browser extensions or add-ons to prevent Facebook Marketplace issues.
The Facebook Marketplace will work flawlessly at that point.
Remove extensions from Google Chrome-
Open your Chrome browser.
In the top right corner, close to the address bar, click on the puzzle extension symbol.
Click on the Manage Extensions.
Click the Remove button to delete an extension.
If the puzzle icon doesn't exist next to the address bar, perform the following steps:
Open your Chrome browser.
Click on the three dots in the top right corner of Chrome.
Go to More tools, and then from the extended menu, choose Extensions.
Choose Remove after identifying the conflicting extension.
Click Remove to affirm your choice in the popup nag.
After that, log in to Facebook to verify the Marketplace's accessibility.
Try A Different Web Browser
Your default browser may be incompatible with Facebook Marketplace. Try a different web browser if you are experiencing trouble browsing Facebook Marketplace with your current one. Facebook has listed several browsers for a better user experience. As a result, users can replace their existing browsers with potential alternatives. However, an obsolete browser may interfere while accessing Facebook and its services.
Hereunder, we are listing compatible web browsers.
Google Chrome
Mozilla Firefox
Microsoft Edge
Safari
Opera
To add a browser:
Install the browser of your choice after downloading it.
Launch the browser.
Sign in to log into the Facebook Marketplace.
Replacing browsers could be a game-changer. For example, if the new browser works smoothly, your prior browser may have had a compatibility issue with Facebook. So first, decide on your favorite web browser and get it. Then, check whether you can access the Marketplace by logging into Facebook.
Still having the same Facebook Marketplace not loading issue, don't forget to update your web browser to the latest version.
How to Fix the Facebook Marketplace Not Loading Issue Changing Facebook Account Settings
You can change many settings to check whether the Facebook Marketplace not working issue is gone or not.
Logout and Login Again to Facebook
One easy fix to resolve the Facebook Marketplace not working issue is logging back onto Facebook after signing out of your account.
How to log out of your Facebook account is as follows:
On the home page of your Facebook account, select Logout by clicking the circled down arrow in the upper right corner.
Log in again, entering your correct username and password after refreshing the page.
Next, check to see whether the Facebook Marketplace not working issue is resolved or not.
Change Your Current Location
Unlike Facebook, which is accessible everywhere around the globe, Facebook Marketplace is not. Therefore, users may not access Facebook Marketplace using their accounts if they reside in a region where it is inaccessible.
Suppose you are sure that it is accessible where you are, though. Then your Fb account's current location may be inaccurate. Follow these procedures to update the location:
Open the Facebook app.
Tap your profile icon in the bottom bar.
Next, tap your picture or name. You are on your profile page.
Now, tap the Edit Profile button > Current City
Tap the pencil icon to change your current city.
Tap the Save button to make changes.
Log in to Facebook to analyze the accessibility of the Marketplace after updating the location.
Change Your Age
The minimum age to use the Facebook Marketplace is 18 years. Individuals who are under age must update their date of birth on Facebook.
The method to update your date of birth using a web browser:
Open your Facebook and log in to your account.
Navigate to the Facebook profile page.
Next, click on the "About" tab on your profile page.
On the left sidebar, click on the Contact and Basic details.
Scroll down the page until you see the birth date and birth year.
Change your birth date and birth year accordingly. Save any changes you make after.
Reload the marketplace page and check whether the Facebook Marketplace not working issue is gone or exists.
Change Your Facebook Language
Try using the Facebook Marketplace in the English language. However, it might not be available in your native language. Therefore, if you are using an unsupported language, you can change it using the following procedure:
Click on the triangle symbol on your Facebook home page in the upper-right corner.
Choose Settings & Privacy > Settings from the drop-down menu.
Click on the Account Settings > Language & Region from the left sidebar.
Then click the Edit button and change the language to English because the FB Marketplace is available in this language. You may choose another language but make sure the Marketplace supports that language.
Next, click the Save change button.
Next, visit the Facebook Marketplace after exiting the window. It will work and load for you.
Request Review
Another reason a user might be unable to access the FB Marketplace is a breach of the Facebook community policies. As a result, the user's access might get terminated. Therefore, a user might be restricted from accessing the Marketplace.
Meanwhile, if you feel you haven't violated any rules, you can ask for a reconsideration. So, request Facebook for a review to fix the Facebook Marketplace not working issue and reclaim access.
The actions below should be able to assist the user in seeking a review:
Open Facebook on your web browser.
Log in with your sign-in credentials.
Next, click the Marketplace icon. Didn't find it, click the See more.
Then, select the Request review option if your access to the Marketplace is restricted.
Next, fill out the form.
You'll receive the response in your support inbox.
Login to your account on Facebook and then examine the Marketplace's accessibility.
Use Facebook Touch
Facebook Touch is an alternative to the Facebook app. You can explore other possibilities if the built-in app cannot provide you access to Facebook Marketplace.
Such substitutes include:
Facebook Lite
Facebook Touch
Both versions support the Facebook Marketplace feature. Therefore to find out if these alternatives work, try them out.
How to Fix the Facebook Marketplace Not Loading Issue on your Smartphone
You've already tried possible fixes on the Facebook web. Now, there are things to try on your smartphone.
Update the Facebook App
Do you have the Marketplace not working on the Facebook app issue? Authenticate your Facebook application version. Facebook Marketplace won't load on an outdated app. It might happen since an outdated version can't work with the trends. For instance, updated security and other crucial settings can cause an obsolete version to malfunction. Therefore, it is crucial to update your Facebook app for smooth functioning.
To see whether there is an update, follow the steps below:
Open the Google Play Store on your Android OS.
Alternatively, open the Apple App Store on your iPhone.
Type "Facebook" into the top search box to look up the Facebook app.
See if an update is available. Click the Update button to get the latest version.
Log in to check whether you can access the Facebook Marketplace or not.
Delete and Reinstall the Facebook App
You may fix Facebook Marketplace issues on your smartphone by deleting and reinstalling the Facebook app. If the update fails, consider applying this method.
Steps to delete and reinstall the Facebook app from your iPhone:
Press and hold your finger on the app icon.
Then tap Remove and Delete the app.
To reinstall the application, download it from the Apple App Store.
Steps to delete and reinstall Facebook from your Android phone:
Press and hold your finger on the app icon.
Next, tap the 'Uninstall' widget.
Re-install Facebook from the Google Play Store.
After that, log in to Facebook to evaluate the accessibility of the Marketplace.
Clear Cache of the Facebook App
As you clear your browser's cache and data to fix the common issue, you may also clear your Facebook app's data. To eliminate troublesome bugs and glitches, purge away your Facebook app's cache and temporary data.
If the flaw is due to the temporary cache, purge it and reset the app's data.
To clear the cache, follow these steps on your Android phone:
Access the Settings on your mobile.
Scroll down to find "Apps." Tap on it.
Then use search to find the Facebook app. Tap on it.
Next, tap on Storage.
Finally, tap on Clear Data & Clear Cache one by one.
Note: You need to remove and delete the Facebook app to clear cache and temporary data from your iPhone.
Clear Facebook Browsing Data
The Facebook app keeps your browsing data. When you are not able to find what's wrong with Facebook Marketplace, clear the browsing data.
Steps are:
Open the Facebook app.
Tap the Profile icon > Settings & privacy > Settings
Search for "browser."
Tap the Clear button under Browsing data.
Force quit the app, and login back to your account to check if the Marketplace working or not.
Restart Your Phone
Restarting your mobile device can usually fix most problems. Therefore, to eliminate the Facebook Marketplace issues, it is advisable to try restarting your device.
Steps to restart your iPhone:
Press and hold the power button and volume together.
The slide to power off button will appear.
Next, slide the virtual power off button to the right to power off your iPhone.
Wait for 30 seconds after the phone screen goes completely black.
Next, press and hold the power button to power on your phone.
Steps to restart your Android phone:
For 5-10 seconds, press and hold the physical power button.
The power menu pops up.
Choose power off from the power menu to turn off your phone. Wait for 30 seconds.
Press the physical power button for 5–10 seconds to restart the phone.
Helpful Tips for Sellers on Facebook Marketplace
After reading the article, readers better grasp the possible causes of the Facebook Marketplace not working issue. Additionally, the practical solutions for specific Facebook Marketplace problems. Also, awareness on how to adequately reconcile those obstacles. Finally, you'll be able to go back into the Marketplace and carry on with your business if you can implement the handpicked solutions above.
We've included additional guidance for Facebook Marketplace sellers to help them expand their business in the future.
Facebook Marketplace is full of competition. To make a difference, consider the following counsel:
Evaluate the competition strategically while setting your prices.
Upload high-resolution and professional product images.
Don't hesitate to respond quickly to questions concerning your product.
Write simple but convincing product descriptions.
Make it clear you are amenable and ready to negotiate.
Finally, to make your listings more discoverable, include relevant tags.
Conclusion
After reading this article, anyone can fix the Facebook Marketplace not working or loading issue. We've covered almost everything in our article to check and fix the FB marketplace not working issue. Do you have any other tips or solutions to resolve Facebook Marketplace issues, don't forget to share them with our readers? Our comment section is open to you.