You all are aware of default Blogger favicon for your blog. Have you ever thought your blog audience is getting bored with it or simply ignore your blog by thinking that you are not a professional blogger because you're not using a custom favicon? In the year 2012 Blogger has already added a Favicon gadget in the Layout section. This is on the top left of Layout page above header gadget. After clicking on Edit on Favicon gadget, you can upload the custom favicon to your blog icon. It is best to select a square image which should be less than 100KB. Favicon gives your blog a unique identity. Visitor's can easily identify your blog with its favicon. When someone bookmarks any page then your blog's favicon appear next to page title or link.
How to upload the custom favicon to Blogger?
1. Go to Blogger Dashboard and select Layout tab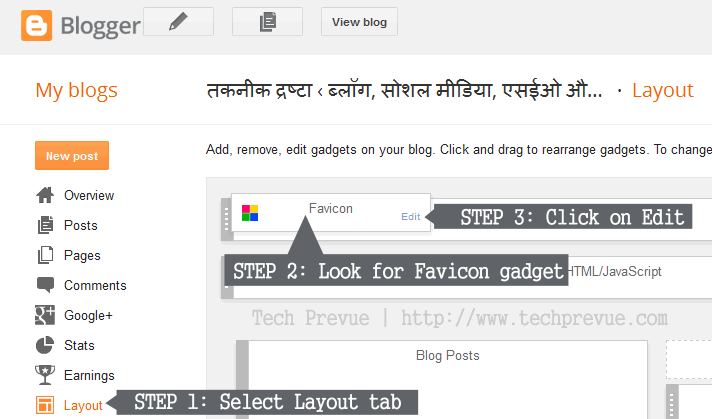 2. On top left of this page, you'll see the Favicon gadget
3. Click on text Edit
4. Now a popup window will appear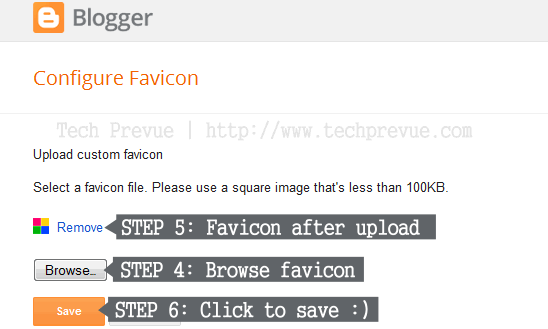 5. Browse and select a square image to make it favicon (.jpeg, .png, .gif, .ico) (< 100 KB in size)
6. After successful upload of favicon Click on Save button
7. You are done
Video Tutorial
Video Link –

You can easily design your favicon here –
http://www.iconj.com/
http://www.favicon.cc/
You can search good favicon here –
http://www.deviantart.com
http://www.iconspedia.com/
Note:
1. If you are not able to see the favicon in your browser tab then you must clear your browser cache.
2. Otherwise, you have to open the following URL in browser address bar –
https://hindi.techprevue.com/favicon.ico
2a. Must change https://hindi.techprevue.com with your blog address and must not forget to add /favicon.ico at last.
We believe this information will be useful for you. Having any question or doubts please write comments.