Instagram is a social media platform with over a billion active monthly users. If you use Instagram, you must have faced issues sometimes. But you may have found it tough to contact Instagram support and even more challenging to get a response.
You may think one of the simplest ways is using the Instagram email ID. But if you email them, you may not get their needed help. It may also happen that you don't receive a reply at all. So if you also face these, we have got you covered.
Here we will look – does the Instagram customer service email address exist, and can you get support? What are the other options? Let's find out.
Is There An Instagram Support Email?
Sometimes you might need to contact Instagram directly. But what is the Instagram contact email?
Instagram has not listed any customer service details. You may have found support@instagram.com and tried to email Instagram support. However, when you contact this email ID, you get a reply no longer responds to queries and says, "Please visit the Help Center." And when you click the given link, it directs you to the Instagram Help Center page. Thus you don't have any Instagram support email address to contact them.
Thus you can access the Help Center to solve your query. It is effortless, convenient, and solves users' most frequent issues. It is available on both the official app and website. We have discussed the following and other ways to get in touch with Instagram.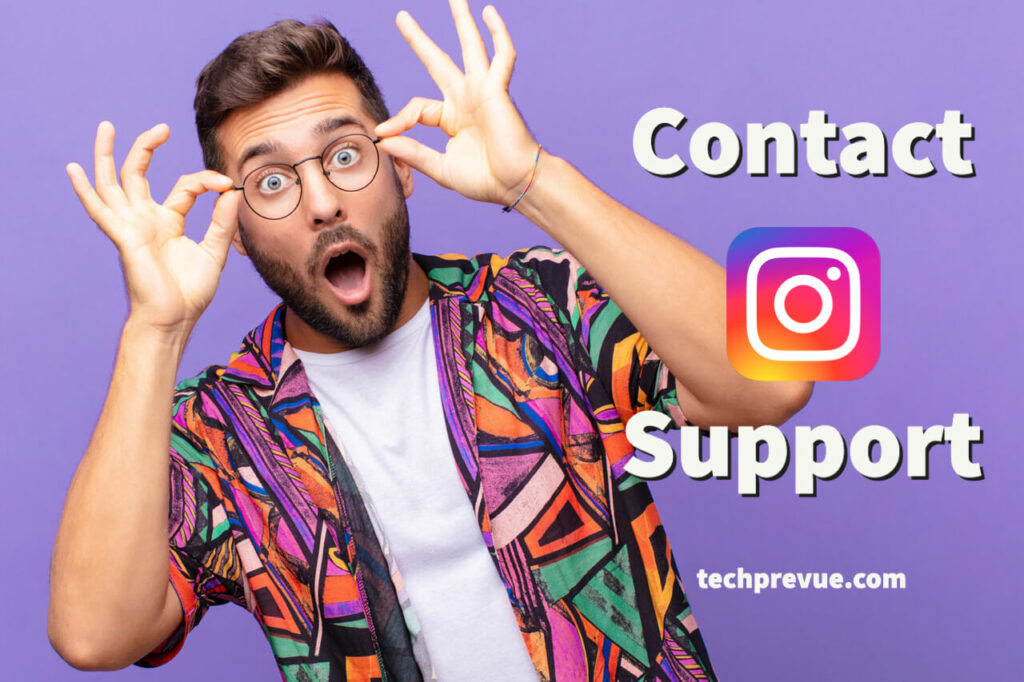 How Do I Contact Instagram?
Instagram has a large user base of around a billion people. So even if 1% of users have a query, it will be 10 million daily queries to resolve. So how can a company answer such huge queries through customer service representatives? Thus it is hard for their team to solve all the queries. Hence they have made the Help Centre to solve Instagram problems.
Access the Instagram Help Center
You can access Help Centre on both the official app and desktop in the following steps:
Instagram App
For the mobile app, follow these steps.
Open the Instagram app and login into your profile.
Tap your profile icon in the bottom right corner.
Tap on the hamburger menu at the top right corner.
A list will show up. Now find and tap on "Settings and privacy."
On the next page that opens, scroll down & tap on "Help."
Next, tap on "Help Center."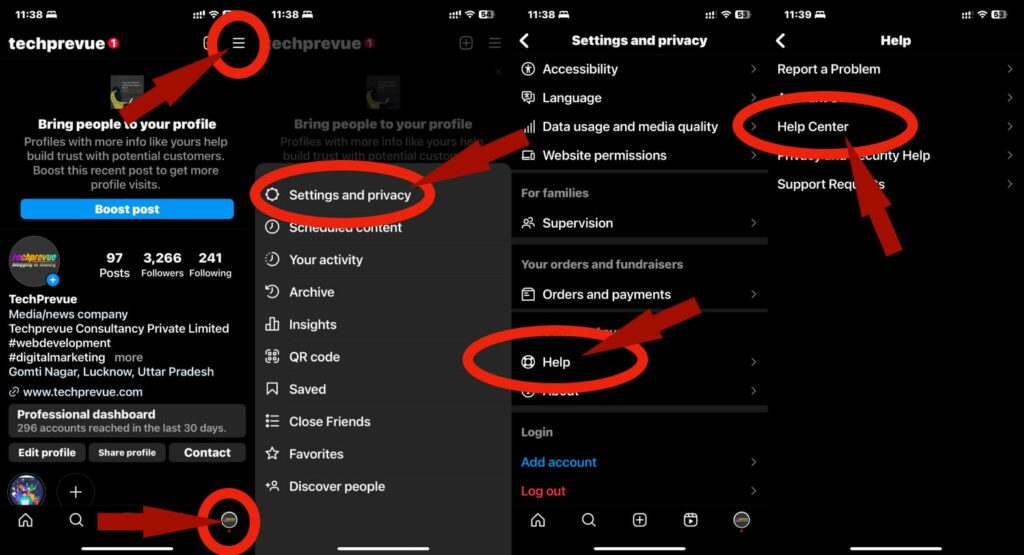 The Help Centre opens instantly. It has a search bar for the issue you want to resolve. You can search for your problem, and it will list details and step-by-step ways to overcome the issue. For example, if you want to recover your deleted Instagram account, you'll get all the steps and necessary resources.
Desktop website 
Open your web browser on your laptop or computer.
You can visit directly visit the Help Center at https://help.instagram.com/.
You can use the search bar on the page and solve your queries there.
Instagram lists the most frequently asked queries IG users have there.
You can find more information about reporting a post, profile, or specific problem by exploring the left-hand menus. m
It may happen that you may not find the answer to your query on Help Centre. Don't worry! We will tell you about the other options to reach Instagram for assistance. Here are some other ways to reach the Instagram support team when you urgently need it.
Use Instagram for Business – Facebook Page
You are more likely to get a reply from the Instagram customer support team on the official Facebook page – Instagram for Business, without emailing them. You can comment on their post or tag their page in your Facebook post. If you want to maintain privacy, it is better to direct message them. This is one of the most effective ways to contact the Instagram support team. Receiving a response is more likely there.
Contact Instagram on Twitter
The official Instagram Twitter account also resolves many user queries. Most often, Instagram provides help and replies to its users. Hence it would be very effective for you also to contact them. You can contact the support team through a private message or comment on their post with your query.
Otherwise, you can post a tweet and tag them. They often ask you to direct message them or visit their Help Center. But it is better than messaging them on their unsupported email.
Contact the Facebook Ads Manager Support
Facebook Ads Manager account is for those users who want to promote their business or profile page as an Instagram influencer. They also assign a Facebook account manager if you actively run ad campaigns. This might be one of the ways to contact Instagram support, and helpful for influencers and business owners.
The Facebook account manager can also solve your queries related to Instagram. They generally respond within an hour or so. But it can sometimes take days or weeks for a support team to resolve your query if they are complex & need intensive research.
Contact the Meta Team
Meta is the parent company that owns Facebook and Instagram. So you can contact Meta to ask for assistance. Besides resolving queries, they invite suggestions and feedback about their social media platforms. In most cases, they help you out. But, even if you don't get the needed assistance, spending time on other options still makes sense rather than losing your Insta account.
Contact Instagram Support by Phone
Instagram has a few official support phone numbers; you can try contacting them.
Instagram headquarters: +1 650-543-4800, +1 650-308-7300, & +1 415 857 3369
Instagram for business: +1 660 745 3051
However, in most cases, you don't get any reply. Further, the call is picked, and mostly the bots guide you through the queries.
There is hope if your attempts through the standard channels don't work. Some unofficial Instagram support services provide assistance related to your account. You can try them in lack of official support.
Instagram Customer Service Chat
Unlike Facebook, Instagram support chat isn't possible yet.
How to Contact Instagram Support As A Normal User?
If you are a regular Instagram user, you can try to reach Instagram customer service. But, unfortunately, your chances of getting a reply are lower. Instagram contact number
Desktop users can follow the steps given below:
First, open Instagram.com in your browser and sign in to your account.
Next, click the "Help" link on the right side or bottom.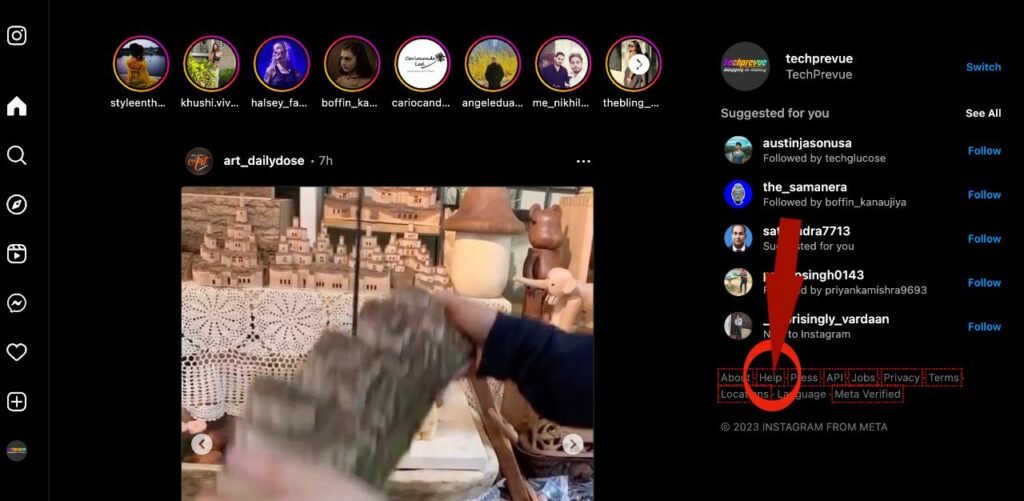 Then, from the left menu, select "Privacy, Security, and Reporting." It opens the menu options.
Now, click "How to Report Things." You'll get complete information about reporting posts, profiles, content, intellectual property infringement, and special matters.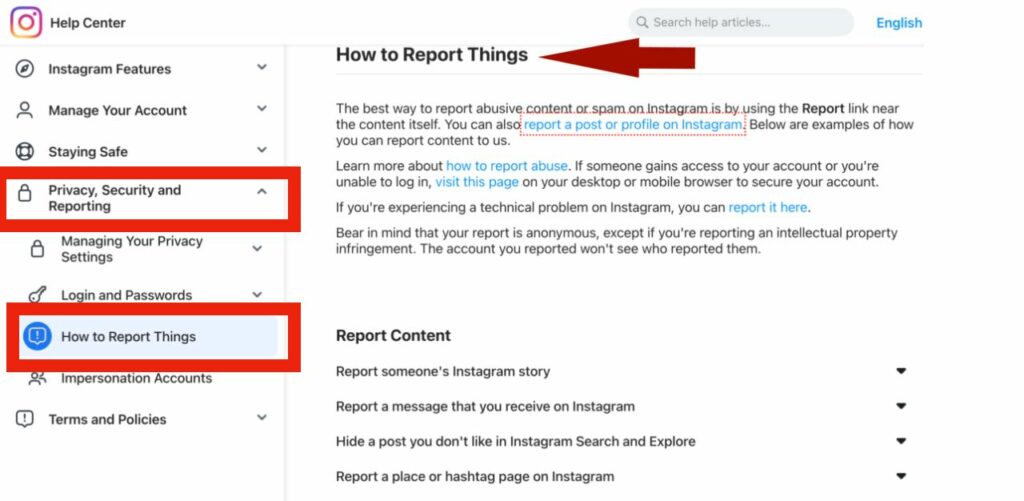 Select a relevant section to proceed with the steps and report your problem.
Some report matters require filling out the form and providing the necessary information and documents.
Alternatively, you can use the more option to report an issue.
Go to Instagram.com on your desktop.
Click the hamburger icon at the lower left corner of the screen.
You will see a list; click the 'Report a problem' option. An input box will appear.
Type your issue, upload a supporting document, and click "Send Report."
The app users can follow these steps to report the problem:
Open the IG app and sign in to your account.
Tap the profile icon.
Tap the hamburger menu (three parallel lines) in the top-right corner.
Navigate through "Settings and privacy" > "Help" > "Report a Problem."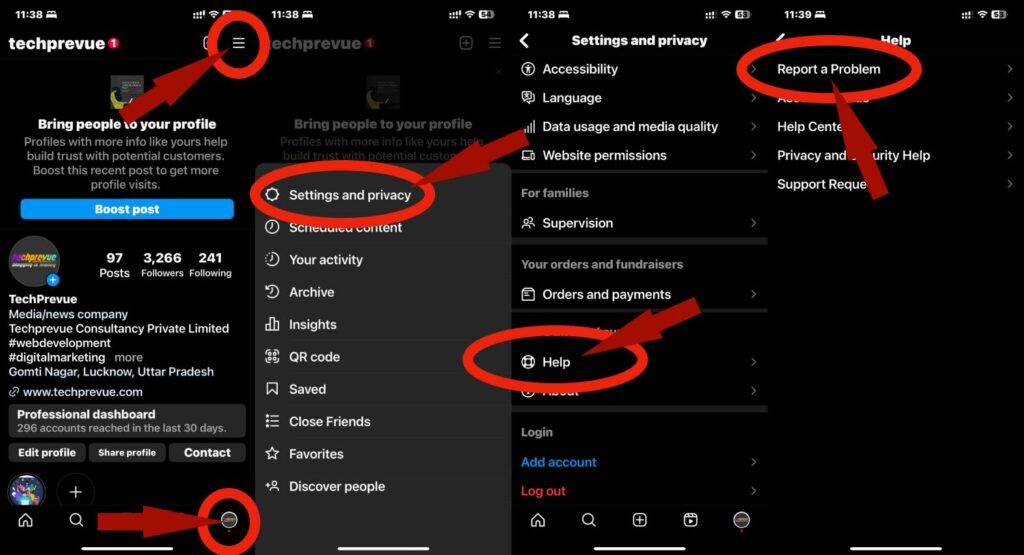 Tap the "Report a problem" button.
Tap the "Include and continue" button. You may ask tap "Don't include and continue." It's your choice.
Briefly explain what happened or what's not working. Then, take a screenshot or upload an image.
Tap the Sent button in the top-right corner.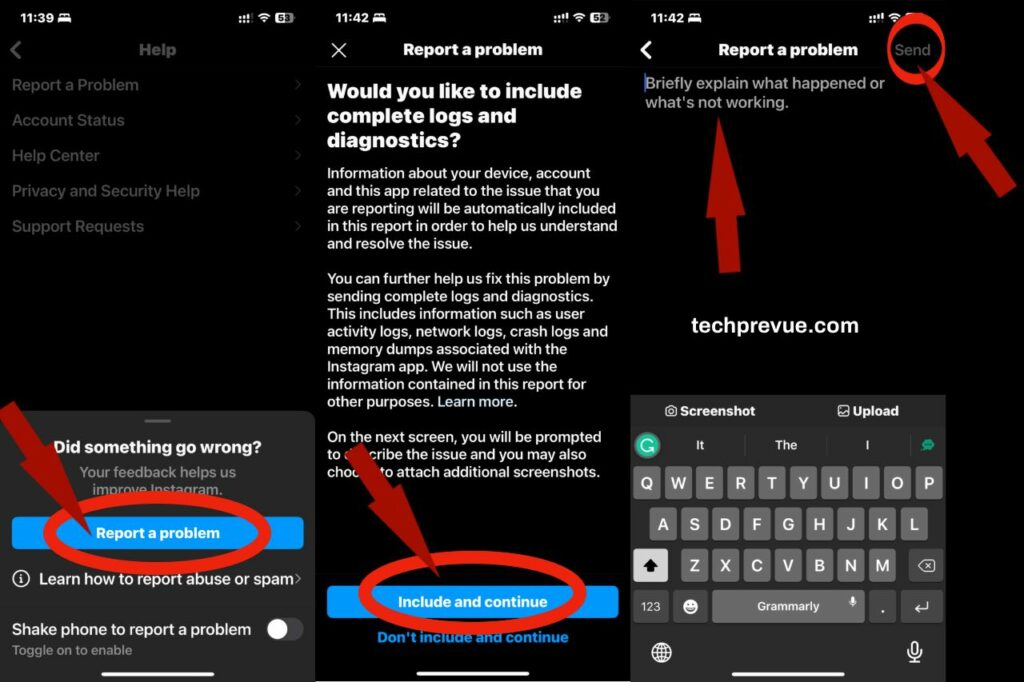 Alternatively, those who have enabled "Shake phone to report a problem" can follow the steps given below:
First, go to your Insta app and shake your phone from left to right.
A menu will pop up; click on 'Report a problem.'
Next, select if you want to include logs with the report.
Now type your issue; you can also add screenshots & photos.
Finally, click 'Send' to report the issue.
You must specify the issue you have. Instagram usually takes hours to weeks to respond. Depending on how much revenue the account earns, you will likely get a quick reply if you have a creator or business account. Famous content creators and brands get a dedicated account manager who assists them. Even if you don't have a popular Instagram profile, be hopeful & keep trying. 
How To Contact Instagram As An Influencer?
Instagram influencers have a large audience who follow them. With a huge fan following, the chances of malicious activities also increase. Many Influencers' account has been hacked. Hackers can access your account also and ask you to pay money to reclaim your account.
You can do direct communication with the Instagram support team only if you are given an official account manager. This is for celebrities and businesses. Besides this, the offered escalation path may not be effective for you. Furthermore, you may feel missing among thousands of users with no profile picture or followers. Thus, finding unofficial ways to solve your account's issue would be best.
Due to the lack of an official escalation path for influencers, the only alternative for you is to spend money on unofficial sources. Many websites and agencies can assist you. However, you can't be sure that your issue will be resolved. But the money is worth the bet if you have an account that generates good money & has a large audience. They can aid you in reclaiming your account. In addition, they may provide their services for thousands of dollars depending on the effort needed.
Alternatively, you can find a person working at a large advertising agency who has direct contact with Instagram. They can engage with Instagram on behalf of your profile or business to resolve the problem immediately.
Endnote
It is hard to get a response from the Instagram team. They don't have an official support phone or email as of now. Thus it's tough to resolve issues with your Instagram account. You can get their corporate phone number and email address, but that won't work. We have given you all the best possible ways by which you can report your problem to Instagram. I hope you found value in this article; you can ask your queries in the comments below.
FAQs
Does Instagram phone number support exist?
Currently, Instagram doesn't have a phone number for customer service. So even if you try to call them, you won't get to talk to any customer service official. However, if you have an urgent problem, you can contact +1 650-543-4800 or +1 660 745 3051. You will receive an automated response here, also. Usually, they ask you to visit their Help Center.
How long does Instagram support take to respond?
In most cases, if you report an issue, Instagram may take around 24 hours to respond. But you can also expect them to take from a day to weeks. Famous accounts get Instagram support quicker. So keep checking your inbox, and don't forget to check your spam folder.