Do you also want to earn money online using Chegg? But you can't find the way to Chegg Expert Login? Then this is the right place for you. Here we will discuss the step-by-step process of Chegg Expert signing up and logging for students and teachers. Further, we will also look into different things if you want to become a Chegg expert.
Chegg is a US-based company that started in 2005. It provides tutoring, textbook rentals, textbook selling, and homework help to students. Simply put, Chegg works like an online community with tutors and students. The experts and tutors can provide their services as Q&A or skills training experts and get paid for every question they solve. On the other hand, students get help with their projects and homework by paying a subscription fee for the Chegg Study plan.
Many people want to teach or work as Chegg subject matter experts, but they can't find a way to the Chegg Q&A expert login or signup page. Thus, this article will discuss the Chegg Expert sign up process, including all the steps from expert sign-up to login. We will also share the direct link for logging in and sign. So if you also need help regarding this, then keep reading.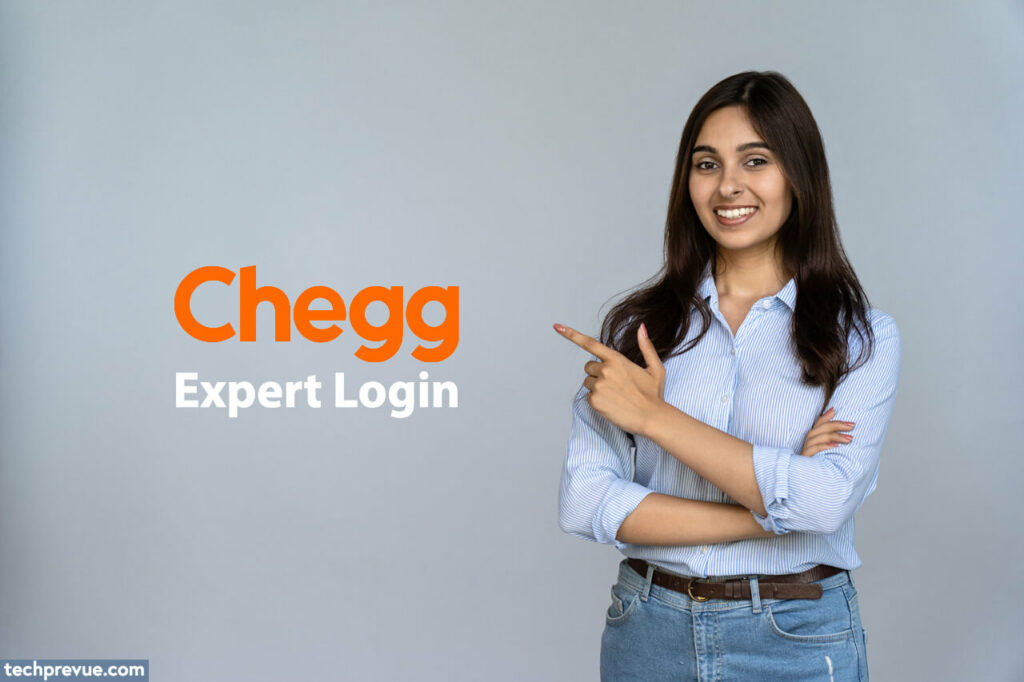 Skills Needed to Become a Chegg Expert
A Chegg Q&A expert is a tutor or subject matter expert on Chegg. Chegg hires experts from all across the world, which ensures that they have the best intellectual resources to help their student users. Chegg hires experts on either a freelance, contractual, or full-time basis. The essential requirement is that you must have strong subject knowledge in your field and must be able to solve the questions related to the same with high accuracy. There are a few major criteria to become a Chegg Expert.
You must have a qualification and solid knowledge of the subject in which you want to become a Chegg expert. You must be aware of the basic as well as the advanced theory and practice of the subject.
You must also have analytical and research skills so that you can dive deep into the subject to give a well-rounded answer to any question.
Time management is another skill Chegg looks for in its experts. It is because you are allotted a limited time in which you need to read, understand, write, and submit answers to the questions.
Besides being creative, innovative, and clear, you must be consistent and disciplined. You must maintain the quality and quantity of answers; otherwise, you may lose your account.
Benefits to Q&A Expert on Chegg
Chegg offers these benefits to subject experts:
Payments: As a Q&A expert, you will be paid on the 15th of every month based on the number of solutions that you would have submitted from the 1st to the 31st (or last day) of the previous month. For example, you will be paid on 15th July for your work from 1st to 30th June. Your payment is relative to the number of answers you would have submitted. The more quality answers you submit, the more you earn.
Freelance: The best thing about working as a Chegg expert is that you will be free to work at your own convenience. The Q&A Expert job is like that of a freelancer with flexible working hours and schedules. You can solve as many questions as you want whenever you like. Top Chegg experts in India earn over INR 1 lakh per month.
Exposure: You can also grow your knowledge and experience with international academics and curriculum. Besides, Chegg also organizes various meetups of experts so that you can learn and grow by sharing knowledge with your peers.
How to Sign Up for Chegg Expert
Chegg is a great platform for educators to share their knowledge and earn simultaneously. Even if you are a teacher at a school and don't have much time to join as a full-time expert, you can freelance on Chegg as a subject matter expert.
Owing to the flexibility and timely payment, there are a lot of people who want to sign up as experts on Chegg. Thus the hiring of experts has been limited to only a few seasons. You can check their website when hiring and for what subject.
Submit Interest Form for Q&A Expert
Go to the Q&A Expert Sign up page – https://www.cheggindia.com/qa-experts/sign-up/.
Type your email id.
Tick the check box to receive an email notification and click Submit Interest.
Once you do this, you will see a Thankyou message on the screen saying that Chegg India will notify you once Expert vacancies re-open.
Meanwhile, you visit Voice of Experts on Chegg. It's a Q&A page where experts and top performers have answered questions about their experience on Chegg. The Earn Money & Career Guidance sections help you explore the platform.
Sign-up Process during Chegg Expert Hiring
You can use these steps to register and complete the signup process.
Visit the official EHPD Signup page – https://ehpd.cheggindia.com/signup.
Type your name, email address, fill in the captcha code, and click the Signup button. You will be asked to verify your email.
Go to your Gmail (or your email provider), open the email with the subject EHPD | Complete SignUp, and click on the Click Here button to create a password. Your email verification auto-completes with it.
Screening Test After Chegg Expert Registration
Now go to the EHPD Login – https://ehpd.cheggindia.com.
Log in with your email and password that you just created.
Once you Log in, you will be directed to EHPD Terms and Conditions page. You need to type your name, read the terms and conditions(by clicking on the link*), tick the check box to accept them, and click Submit button to continue.
You will be forwarded to the walk-through video page. You can view the video to get complete information about Chegg Expert registration.
You will be forwarded next to the Terms and Conditions page. You can read the Terms and Conditions and download the agreement copy from the page.
Next, click on the Registration button to go to the registration page. You will be asked to fill name, mobile number, etc. Finally, click on the Submit button.
On the next Subject Expertise page, click the Select Subject button > Choose the subject from the drop-down menu > Click Submit.
Next, click on the Subject Test I button > Attempt ST Test. The test would have 12 questions, and you can attempt the test maximum of two times.
Documents Verification After Passing the Subject Test
Once you pass the test, you will be asked to upload your Degree, PAN, Bank Details, Proof of Address & Mobile. Submit the details carefully.
Next, you would be required to read the expert guidelines and give the guidelines test. You can click on the Download Q&A GG Document button to download the guidelines. Read it carefully and click on Attempt GG Test to attempt the guidelines test. The test will have 20 questions each, and you can only make three attempts.
Once you pass the test, your application will be reviewed, and you will receive a mail once you are selected as a Q&A expert.
Once your registration is approved by Chegg, you are ready to solve the student's query and earn. But if you have a problem logging in, don't worry! We have got you covered.
How To Access Chegg Expert Login
Chegg Expert Q&a Login is only after a successful registration. You can use the following steps to log in to the Chegg Expert portal:
Go to Chegg Expert Hub – https://expert.chegg.com.
Enter your username and password and click on Proceed.
Your Expert dashboard will show up. You can start solving questions by clicking the Start Answering button.
How to Reset Password for Your Account
Go to EHPD Login – https://ehpd.cheggindia.com.
Click Forget Password.
Enter your registered email address.
Enter CAPTCHA.
Enter your last login password if you remember. It may ask you to enter the last password you remember with this account.
Alternatively, you may click "Continue with reset password."
Click the Send OTP button. For verification, an OTP will be sent to your registered email address.
Enter the OTP received on your email within 1 minute and click Verify.
If you don't receive OTP, you can click Resend OTP.
Complete the final step and change your login credentials.
Important Things You Must Know About Chegg Expert
You must ensure a CF score of 80% or above; otherwise, your account may be revoked. You can do this by providing clear and to-the-point content. Also, avoid using AI and plagiarised content.
You must always adhere to Chegg's guidelines while solving questions.
Try to log in and solve questions between 11.30 PM and 8 AM, as at that time. You will get the most amount of questions to solve.
Your quality of answers is reviewed periodically, so make sure you maintain their quality.
You can skip as many questions as you want, but that would reduce your questions pool which you can solve and earn.
Conclusion
Chegg is one of the most popular platforms for tutoring and homework help among college students. Besides, it provides many other services like buying and selling old textbooks, etc. It is also a nice place for subject matter experts and tutors to increase their knowledge and earn simultaneously. You can work as a TBS Expert or as a Q&A expert. Thus in this article, we have discussed how you can sign up and log in to the Chegg expert portal. We have also given the important things you must know before becoming a Chegg expert.
I hope you liked this article. Share it with your friends to whom this can be helpful. Leave your thoughts on this in the comments below.