If you're a blog publisher aka blogger, then you may have to worry about blog hacking or blog deletion by Google for an unknown reason. Always stay up to date and take a backup of blog posts, pages, and comments. You can back up content in XML format which contains blog posts, pages, and comments. It can save all your efforts and hard work of a long period in a single file of a few megabytes.
Here is a guide to take the backup your blog from Blogspot/Google Blogger.
If you want to merge two blogs hosted on Blogger, then this option is handy. It can also be helpful when you plan to shift from Blogger to WordPress.
You can keep this backup on the hard drive or some cloud service like DropBox or Google Drive.
Steps to Backup Blog Posts, Pages, and Comments
Download the backup of your Blog on the Blogger/Blogspot
You need to go to the "Dashboard". There you need to check the "Settings" option. In the hierarchy click on "Other", the option to "Import & back up" is available.
Dashboard › Settings › Other › Import & back up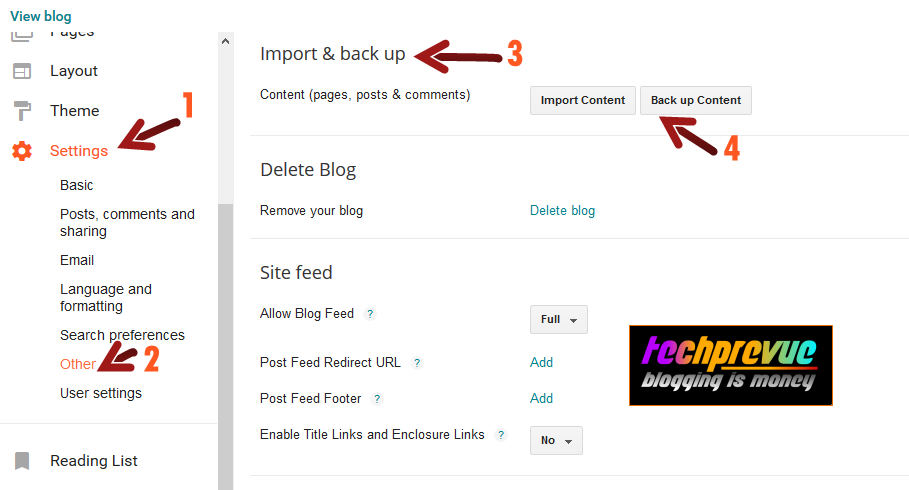 2. Now you have to click on "Back up Content" button as shown above. A pop-up window comes out.
Import & back up › Backup content › Pop up appears › Save to your computer


3. Now click to "Save to your computer" button to save back up content.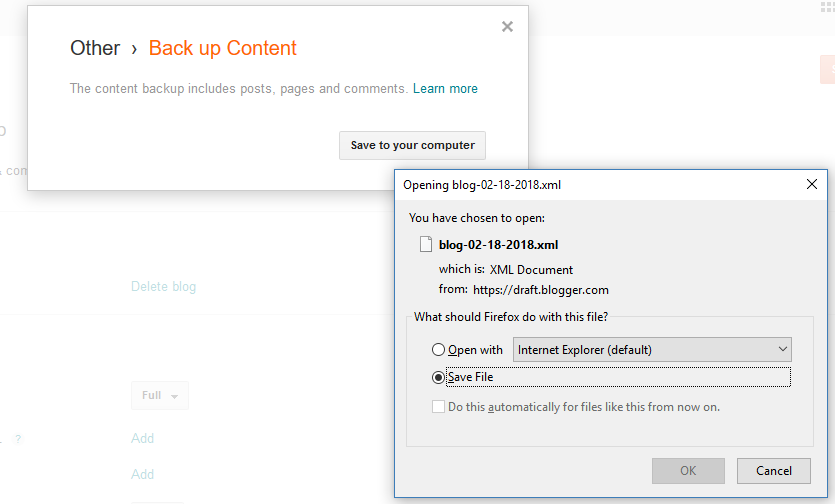 Finally, back up your content is on your hard drive, save it for future use.
Conclusion
Taking the back up of your blog – blog posts, pages, and comments is a work of a few steps. It's a handy option. This backup content can be imported into major blogging platforms, including WordPress or merge two Blogger blogs.
I believe this article will be useful to you.