AMP – Accelerated Mobile Pages are seen as having two major benefits for SEO. The first is a "Fast" label showing up in search engine results. The second is a higher ranking factor. Only Google knows just how much higher, or when new ranking algorithms will take effect. But let's take a closer look at this new mobile technology and how it can improve listings with the search engines.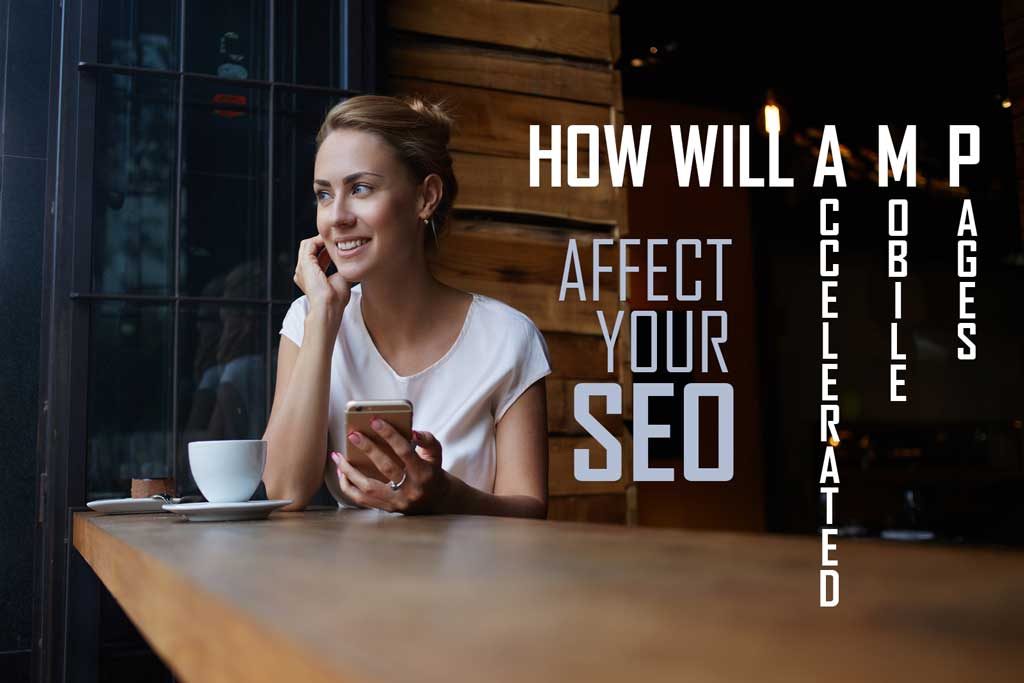 SEO Effects
Impressions, clicks, user experience, and speed will all be tallied by Google's algorithms on Accelerated pages as with traditional pages – speed being the major element. Google is giving that more and more emphasis. Mobile users are notoriously impatient, especially when it comes to slow load times, and AMP – Accelerated Mobile Pages is part of Google's solution to that problem. Not to mention the business sense of making more pages more accessible to the huge and still expanding mobile market. Google's analytics will share site stats with any 3rd-party software that's also integrated.
Though nothing regarding SEO has been officially set in stone, the fact the Google is throwing its considerable weight into it means that as acceptance grows, Accelerated pages may become a deciding factor in a website's ranking. The push in web design in recent years has been in making pages responsive to mobile users. This is a sensible business trend, but one that those trained in traditional web development have been a little slow to adopt. That is very likely to change in the near future. Google promises that AMP-designed sites or subdomains can sync smoothly with your existing pages. It's also possible to code pages from scratch with AMP-friendly HTML.
Accelerated page stats are already being displayed in the search engine results pages (SERPs), and that includes mobile search results. The "Fast" tag is what mobile users will be looking for, and having it alongside your listing is only going to increase traffic.
Of course, there are other tools and techniques to improve page speeds. Will AMP pages rank higher with Google than non-AMP mobile pages of comparable speed? That remains to be seen. But not every site has to rely on this new technology for SEO. Part of the reason AMP – Accelerated Mobile Pages was created was to compete with fast-loading content from Apple News and Facebook Instant Articles. It's also motivated by the proliferation of ad blockers that prevent Google's AdWords from showing up on mobile sites in an attempt to make them load faster. AMP improves load times even for AdSense pages.
AMP – Accelerated Mobile Pages and SERPs
One noted problem with Google's SERPs going forward is that the AMP module appears at the top of the page and pushes organic results down further. The impact for publishers is that non-AMP pages will get fewer clicks from Google even when they should occupy a top organic spot. With paid search results factored in, a top spot on Google will be even harder to achieve by SEO alone. Publishers who do opt-in may find themselves appearing higher on the Google SERPs without any special SEO changes on their other pages.
Links to article text will work and can open a browser in a new window, so AMP articles may actually improve click-through counts. The message from Google seems to be that AMP – Accelerated Mobile Pages is about to become an important part of SEO. It will be interesting to see how Bing, Yahoo, and the rest respond.
Google has also recently put some emphasis on not just responding to keywords or phrases in their search bar, but also responding to questions such as "When did Ty Cobb play baseball?". The questions at this point must be simple questions with simple answers, otherwise, the SERP displays results that may not be so mobile-friendly. However, complex questions can often be answered with in-depth articles, and with Accelerated pages, those may show up more readily in response to Google queries. It's not a bad solution, but again AMP-Accelerated Mobile Pages-format pages appear to assume a favored status on Google.
But for those committed to Google and maximizing their Google SERP listing, fast-loading articles will lead to more page views, fewer frustrated readers, and an easy path to SEO.
Go To Google
Naturally, Google's advertising will work with AMP pages. And their algorithms will validate AMP-HTML pages before listing them. The fact is, Google wants you to use this design approach, and if you want to rank high in Google, it would be wise to incorporate their new baby. Other search engines are likely to fall in line. After all, lightning-fast mobile pages are something audiences have been waiting for. Accelerated mobile pages will benefit them as well as you.
And beyond a little effort, there's no reason to be negative about Google's mobile web design solution. In fact, as an open-source solution, AMP – Accelerated Mobile Pages is only going to become more popular and more feature-rich. It's not perfect yet – but Google seems committed. So as the mobile community expands and interacts with the larger Net, AMP will evolve, too.