To get a thrilling gaming experience, you need an equally great desktop. In this case, the Alienware Aurora 2019 can do the job wonderfully. But, unfortunately, its 9th generation Intel Core i7 processor and Nvidia GeForce RTX 2070 graphics card are just a no-match for PC gaming.
In a market filled with bulky, heat-emitting, and slow computers, Alienware Aurora is an alien. However, in 2019, Dell loaded this desktop with 16GB RAM and 512GB Storage, and 1 TB HDD. In short, it is no less of a Mustang when playing games.
The Alienware Aurora must be on your list if you are looking for the best gaming desktop. But before you decide, it's essential to look at its specs and Pros & Cons. This article will clarify if this gaming PC is worth the price tag of $2500. So let's dive deep & find out more.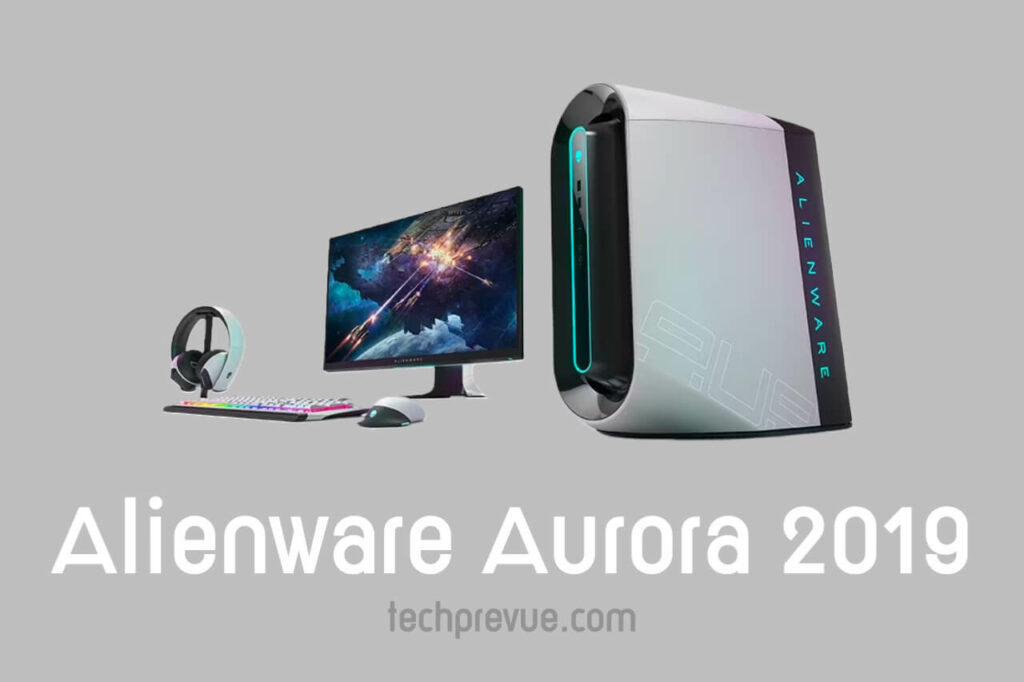 Alienware Aurora 2019 Specs
The Alienware Aurora comes with a wide range of features. There are many premium models (R9, R10, R11, R12, R13, R14, and R15) available that you can buy.
Feature
Specification
Brand
Dell
Model
Alienware Aurora
Processor
9th Gen Intel Core i7-9700K
Base Frequency
3.6 GHz
Max Turbo Frequency
4.9 GHz
Graphics Card
Nvidia GeForce RTX 2070, AMD Radeon RX 5700
RAM
8 GB, 16 GB, 32 GB, 64 GB
Storage (Solid State Drive)
64GB, 128GB, 256GB, 512GB
Storage (HDD)
1TB
Connectivity(Wireless)
AX1650 2×2 802.11ax Wi-Fi & Bluetooth 5.0
Ports
Type-A USB 3.1 Gen 1 with Powershare Technology- 3
Type-C USB 3.1 Gen 1 – 1
Headphone/Line Out – 1
Microphone/Line In – 1
RJ-45 Killer E2500 Ethernet -1
Type-A USB 2.0 – 5
Type-C USB 3.1 Gen 2 – 1
Type-A USB 3.1 Gen 1 – 3
Operating System
Windows 10, Home 64 bit
Pricing
Over $2500
Features
There are many reasons why Dell Alienware Aurora 2019 can be the best choice for gaming enthusiasts. Besides its futuristic and seamless look and design, this modern gaming desktop is also unbeatable in performance and upgradeability. So now let's discuss what goes inside this machine that makes it popular in gaming.
Processor
Since computer games are complex programs with intensive controls and graphics, a high-end processor can only handle them smoothly. It has a 9th Gen Intel Core i7-9700k (8 Cores, 12MB Cache, 4.9 GHz Max Turbo Frequency) processor to run all popular games from GTA to Minecraft. This also gives users a smooth and faster loading time. As it's highly customizable, you can go for Core i9-9900K (8 Cores, 16MB Cache, 5.0 GHz Max Turbo Frequency) or AMD Ryzen 9 3950X (16-Core, 72MB Cache, 4.7 GHz Max Boost Clock) for more performance.
GPU
As told earlier, display graphics play a key role in computer gaming. Thus, a PC with a clear and visually stunning display is a primary choice in the gaming world.
The Alienware Aurora 2019 gaming computer has a pre-installed Nvidia GeForce RTX 2070 graphics card. It has 8GB GDDR6 memory, 2034 Cuda Cores, and 1.71 GHz graphic processing speed, enough to handle many games in the market. This gives users a 4K immersive experience. Thus, this Alienware laptop leaves its competitors by a significant mark in terms of GPU. You can also opt for GeForce RTX 2080 with an 8 GB GDDR6 configuration.
Storage
Game applications consume a lot of storage. For example, Fortnite requires more than 25 GB of space. Thus ample storage becomes an immediate need for any high-performance gaming PC. Unfortunately, the Alienware Aurora 2019 comes with 256GB NVMe SSD storage, which is excellent but insufficient for high-end gaming enthusiasts. This can be a significant issue for users who want to buy a high-performance laptop for hardcore gaming. Fortunately, you can extend the SSD storage to 512 GB with an additional 1 TB HDD storage that helps you achieve different levels of performance and experience.
Airflow and heat optimization
Since PC gaming involves high CPU usage, thus it also produces a lot of heat, which can damage your system. Hence, when choosing a gaming computer, it is essential to pick one with optimized heat management.
The iconic design of Nware Aurora 2019 is also optimized for lesser heating. Its airflow is enhanced with rear, side, and top exhausts that deliver more inferior obstruction. Thus, users can game long without worrying about heating issues.
Ports & Connectivity
If you are a gamer, you must know how vital ports are in high-end gaming. This allows them to connect the internet, display, consoles, and other devices to the gaming computer, which has become very important for gamers nowadays.
The Nware Aurora 2019 has the following:
Type-A USB 3.1 Gen 1 with Powershare Technology- 3
Type-C USB 3.1 Gen 1 – 1
Headphone/Line Out – 1
Microphone/Line In – 1
RJ-45 Killer E2500 Ethernet -1
Type-A USB 2.0 – 5
Type-C USB 3.1 Gen 2 – 1
Type-A USB 3.1 Gen 1 – 3
Further, it also has wireless connectivity support like WiFi and Bluetooth 5.0. Thus you can connect your wireless headphones and other accessories to enjoy a seamless and excellent gaming experience.
Look & Feel
Dell's Alienware Aurora 2019 has a sleek design and compact size that please users. You'll start loving it at the first look. Its side panel is white, and the front is black. It also has a ringed led on the front panel. This led lighting around an Alienware logo and control panel gives the device a bizarre look. Some people believe Alienware's redesigned laptops inspire it.
Chassis Design
Do you keep on upgrading your PC from time to time? Then Aurora's PSU swing arm feature would be beneficial to you. First, you must uncover the lid and pull out the panel to access the motherboard. Then you can install/remove any hardware accessory without needing extra tools. In addition, the Aurora 2019's swingarm assembly also protects the internal components from radio frequency interference.
Pros & Cons
Before giving a final purchase order for any PC, it is essential to consider its Pros and Cons. So let's quickly look at the Aurora 2019 Pros and Cons.
Pros
It has many RAM and Storage upgrade combinations in different configurations.
Its design is visually appealing and sleek and can fit in small spaces.
You can access, add and modify chassis without needing any extra tools.
It supports Virtual Reality (VR) games and devices.
You can play high-end advanced games smoothly on this PC without any glitches.
It has advanced heat management with performance-optimized airflow and liquid cooling.
Cons
Its pricing is not at par with the features and specs it offers.
The Alienware Aurora 2019 model has lesser storage than many gamers demand. Upgrade options are costlier.
Sometimes it gets noisy at times when fans run faster due to overheating.
Conclusion
In this article, we reviewed the Alienware Aurora 2019. We have discussed its significant features, merits, and demerits as well.
Overall, the Aurora 2019 is a great gaming desktop with many features. It boasts 16 GB RAM and 256 GB SSD storage. Its processor, GPU, and design are also A-grade. But Dell has discontinued Nware Aurora 2019. Still, you can buy it from resellers and some online stores. Otherwise, go for a new Alienware Aurora R13, R14, or R15.
I hope this review was helpful to you. You can comment on your queries or suggestions below.
FAQ
When did the Alienware Aurora R9 come out?
This Alienware Aurora R9 was launched in 2019.
Why is Alienware so expensive?
As Alienware desktops offer premium-quality hardware, they are also priced accordingly to match the high standard of specifications.
Is Alienware Aurora worth buying?
Buying an Alienware gaming desktop is a wise choice. It has a high-performing Intel Core i7 processor, a dedicated graphics card, 8 GB RAM, 512GB NVMe SSD storage, and properly optimized heat cooling systems.